Cowboy cartoonist jumps to conclusions with Christmas gift
COFFEE WITH WARREN, with Warren Harbeck
Cochrane Eagle, December 17, 2015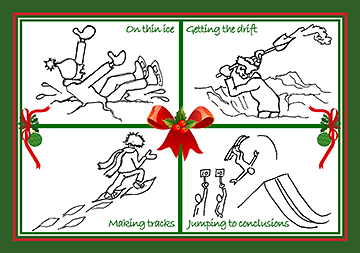 The English language is rich in idioms that inspire cowboy cartoonist Stan Cowley even during the snowy days of winter. Cartoons by Stan Cowley, giftwrapped by Warren Harbeck
Click for a larger version
Ann Manning and I were having fun with the English language over coffee at Cochrane A&W, when cowboy cartoonist Stan Cowley joined us.
It all started with my comment about how some folks' favourite exercise is jumping to conclusions. Yes, Ann agreed, but that must be very difficult when they have their shoulder to the wheel and their nose to the grindstone!
Ann, an artist by temperament, proceeded to share a long list of such visual English idioms she'd compiled on a flight once – phrases like "hit the hay," "jump through hoops," and "stretch the budget."
About that time Stan pulled up a chair and entered into the wordplay. And that's when the fun really began.
Stan is well known in these parts not only as founder of the Rafter Six Ranch Resort near Seebe, but as a very entertaining cartoonist. In fact, when I first met him at the ranch back in the late 1970s, I was immediately impressed with how he'd entertain his guests by drawing western-theme caricatures of them on their napkins, keepsakes that many of those guests treasure to this day.
Stan picked up immediately on Ann's lead and began sketching a few hilarious interpretations of idioms that seemed to relate well to ranch life. (I think he should line up a publishing contract for them!)
We also brought up phrases that suggested to Stan a wintery setting. We've all heard folks say about someone who is really pushing their luck, "They're walking on thin ice." And if you didn't "get the drift" of what we were thinking and had to "make tracks" to the dictionary to find out, then obviously you're cautious about "jumping to conclusions."
Well, Stan made cartoon interpretations of those four idioms as a Christmas gift for our readers. I've taken the liberty of giftwrapping them and present them to you here with my own best wishes for the season, as well. Thanks, Stan!
© 2015 Warren Harbeck
JoinMe@coffeewithwarren.com