Best Christmas gift just might be an attitude of gratitude
COFFEE WITH WARREN, with Warren Harbeck
Cochrane Eagle, November 10, 2015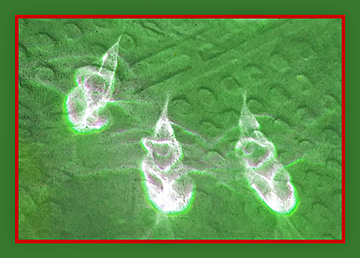 Three of Santa's elves delivered important Yuletide reminder in refraction of chandelier lights through drinking glass onto napkin. Photo by Warren Harbeck
What an inspiring pre-Christmas coffee visit I had recently with my German language mentor, Marlis McDouall.
Our conversation began with a quote from Minuten der Stille ("Moments of Quietude"), a book of German quotations Marlis had given me some time ago:
"Gratitude is the first and last feeling of a human being" ("Dankbarkeit ist das erste und letzte Gefühl des Menschen"), wrote Adolph Kolping, the 19th century Catholic priest and social reformer from Cologne.
"Yes, gratitude!" Marlis responded excitedly and proceeded to share her own deep emotions of gratitude for being at home in two cultures and communities: her community of birth in Germany, and her adopted community of Cochrane.
She spoke of how an attitude of gratitude and the embrace of beauty (especially in the serendipity of the moment) are, for her, tightly interconnected with the deepest meaning of love. It's about Wholeness, she said.
Here she cited the example of artist Bev Doolittle. "The way she camouflages the painted horses and their riders into the bark of the aspen trees can maybe be interpreted as Oneness or Wholeness. Once you take one layer away, the Wholeness becomes disturbed and unravels."
Music-wise, Marlis pointed to this sense of Wholeness in Smetana's symphonic poem "The Moldau." She said, "With closed eyes you can envision the River Moldau from its small beginnings to its mighty end with the music being the paintbrush."
It was her reference to Hany Al Moliya, however, that sent me into a rewarding Google search. Hany is the 21-year-old legally blind Syrian refugee who has become an outstanding photographer of the life of refugees. (See the CBC News special on him for Sept. 23, 2015.)
"It's what you don't immediately see. You have to search for it; it's mystical," Marlis said about the beauty and mystery behind the gratitude that these three artists have in common.
Marlis's examples got me thinking about others who have expressed this attitude of gratitude in their own unique ways.
In particular, there's the late Gerald Kaquitts' impact on me in his funeral tribute to his parents, Stoney Nakoda Chief and artist Frank Kaquitts and Kathleen Kaquitts. (I featured Gerald's tribute in my Dec. 18, 2002 column.)
In spite of Kathleen's parents' and grandparents' sense of betrayal through the treaty-making process, the lesson she taught her family in word and deed remained unspoiled: "To see the world every day for how beautiful it is, and to be thankful for it," as Gerald once told me.
This was the way human beings could best enjoy nîbi ptenâ ne, this short journey called life. It was a lesson Kathleen's parents had taught her and their parents had taught them.
"When my grandparents got up in the morning and saw the rising sun, they said a prayer of thanksgiving for the beautiful day just begun," Gerald said. "And when the sun set and they lay down for another night's rest, they said a prayer of thanksgiving for the beautiful day just ended. They saw the world for how beautiful it was," Gerald said, and instead of grumbling about the ugliness, they rejoiced in its beauty.
Yes, as in Kolping's quote at the beginning of this column, for Gerald's parents and grandparents, gratitude was their first and last feeling, both from dawn to dusk, and from birth to death.
As Marlis noted, such a lifestyle of Wholeness flows from embracing the mysterious interconnection among beauty, gratitude and love. Indeed, as she added, it's worth searching for, because often "it's what you don't immediately see."
ON THE LIGHTER SIDE, that deeper look paid off for me at dinner the other day.
I'd noticed that there were three bright spots on my napkin created by the refraction of lightbulbs from the chandelier overhead through my drinking glass. But then I looked more closely, and voilà, what did I see? Three of Santa's elves had come to remind me that this Christmas the best gift I might share with all of life is an attitude of gratitude, even in the unexpected.
© 2015 Warren Harbeck
JoinMe@coffeewithwarren.com