Local author waxes poetic over her life as a rancher's wife
COFFEE WITH WARREN, with Warren Harbeck
Cochrane Eagle, November 5, 2015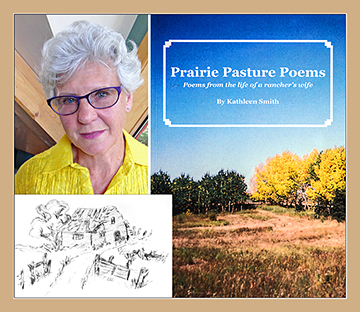 Kathleen Smith shares her wit and wisdom about ranching life in her just-published book, Prairie Pasture Poems.
Photo of author by Warren Harbeck
How about some verbal snapshots of a new blue loo? Or a creative strategy for rescuing twin calves born at the bottom of a draw? Or the arrival of autumn and of new neighbours who speed down once-quiet country roads?
Cochrane-area author Kathleen Smith is treating us to just such an "album" in Prairie Pasture Poems: Poems from the life of a rancher's wife.
The delightful celebration of Kathleen's life in southern Alberta takes us from her birth in the dust bowl days of the 1930s, through raising cattle and her attempts at farm accounting, to re-learning recently "how to make a different dough" after her doctor told her she must go "gluten-free."
Kathleen and her husband, Max, live northeast of Cochrane toward Airdrie on a ranch bought by her father in 1946.
At a young age she joined the Airdrie Beef Club, now called 4H. "I got up in the mornings very early to feed my calves and my horse and have my own breakfast before heading to school through the pastures, gates and weather to Lochend School," she says.
Since those days she's studied horticulture judging at Olds College, had a home-based silk-and-dried flower business, been a seamstress of wedding clothes, and owned and operated (with three other farm women) the Windflower Gallery in Cochrane.
This collection of Prairie poems is her latest venture. In it she relates "true stories and customs of our family and friends," she says. "Most are very humorous, but with a sprinkle of sadness in places."
Now, about that time twin calves were born at the bottom of the draw?
"The hill was too steep, too slippery an' sleek," Kathleen writes. The old green chore truck "would just be slidin'. . . . / The transport we chose had ended our woes, though it shook the poor calves to the marrow, / The decision we made for the plans that we laid was to get out the garden wheelbarrow!"
And then there's her poem that all of us can identify with this season: "Autumn creeps on Angel's wings, / Taunting seeds that fall to earth. / Hues of gold and orange cling, / While lineage waits for spring's rebirth."
Of course, even the once-urban newcomers enjoy autumn drives through our foothills. Kathleen's reaction?
"No more the quiet, narrow road my country feet to tread, . . . / But now the rock-hard pavement with its yellow centerlines, / Entices motor vehicles that don't obey the signs. . . . / The population increase is sort of like a curse. / But then I meet my neighbours and they really are quite nice, / New friends for me to talk to, they're worth it at any price!"
Oh, and about that new blue loo? I guess you'll just have to ask Kathleen in person at her presentation at Cochrane's Nan Boothby Library, Thursday, Nov. 12, from 7:00 till 8:00 pm.
Prairie Pasture Poems can also be purchased at the Lioness Christmas Market at the Cochrane Alliance Church on Nov. 7, at the Beaupre Christmas Sale on Nov. 21, or by contacting the author directly at ksmith@nucleus.com.
© 2015 Warren Harbeck
JoinMe@coffeewithwarren.com