Where are Mexico's "disappeared" 43 this Thanksgiving?
COFFEE WITH WARREN, with Warren Harbeck
Cochrane Eagle, October 8, 2015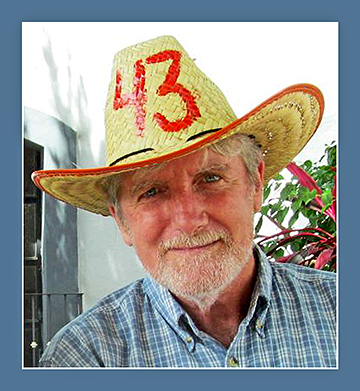 "Wearing a sombrero with '43' on it is not only a humbling experience," says Mission Mexico project coordinator Mike MacDonald; "it's a commitment." Photo supplied
We're approaching Thanksgiving once again in Canada, a time when families are united around fun, feasting, and fond memories.
But for many in the mountainous State of Guerrero in southern Mexico, family reunion is a dream longing to be realized.
Sept. 26 marked the first anniversary of the murder of three students and the disappearance of 43 other students from the teachers college in Ayotzinapa, Guerrero.
Our media were filled with the story at the time, but other headlines eventually relegated it to the back pages.
It has not been forgotten by the families affected, however.
Nor has it been forgotten by one of our long-distance email coffee companions, Mike MacDonald.
Mike, a former Calgary school teacher, is in heartfelt solidarity with those families. Project coordinator for Mission Mexico, a humanitarian outreach of the Catholic Diocese of Calgary, he represents the concerns of many right here in Cochrane.
To commemorate the anniversary of that tragic event, Mike posted a moving essay on his blog. With his permission, I'm condensing it here:
EVERYONE KNOWS that police, military, government, and drug gangs were involved in the affair here in the State of Guerrero – but everyone also knows that truth and justice are not common commodities in this region.

And family members of those 43 students are no closer to knowing the whereabouts of their loved ones than they were one year ago.

A recent report given by Amnesty International placed the number of forced disappearances in Mexico since 2007 at about 25,000.

For those who are unsure just what a "forced disappearance" is – and if this is not a part of your everyday life, I hope you feel grateful – Wikipedia gives the following definition:

"In international human rights law, a 'forced disappearance' occurs when a person is secretly abducted or imprisoned by a state or political organization or by a third party with the authorization, support, or acquiescence of a state or political organization, followed by a refusal to acknowledge the person's fate and whereabouts, with the intent of placing the victim outside the protection of the law."

Can most Canadians even imagine what it is like to live in a society where "forced disappearance" is an ever-present threat?

Here in Guerrero the struggle will continue.

Ayotzinapa, the location of the teachers college where the 43 disappeared studied, means in the native Nahuatl language "place of turtles."

I read the following comment on a website: "Consider the qualities of turtles: tough and enduring, watchful, tidy, quiet and dignified, purposeful, respectful and gentle. Turtles keep trying, plan ahead, love their home territory and are smart."

That describes the moms and dads, sisters and brothers, wives and children, grandmothers and grandfathers of these 43 disappeared students. And it describes the hundreds and thousands and millions of others who accompany them in their struggle for truth and justice – and who seek a simple answer to the anguished question: "Where are they?"

"Alive they took them away; alive we want them back!"

—Mike MacDonald, Guerrero, Mexico
THANKS FOR this reminder, Mike.
This Thanksgiving, as we in Canada are united once more with our families in joyful celebration, let us remember the families of these 43 disappeared students in the State of Guerrero. May they finally find deliverance from this nightmare of uncertainty and realize their dream of reunion.
© 2015 Warren Harbeck
JoinMe@coffeewithwarren.com