Cochrane artist finds beauty in world turned upside down
COFFEE WITH WARREN, with Warren Harbeck
Cochrane Eagle, July 16, 2015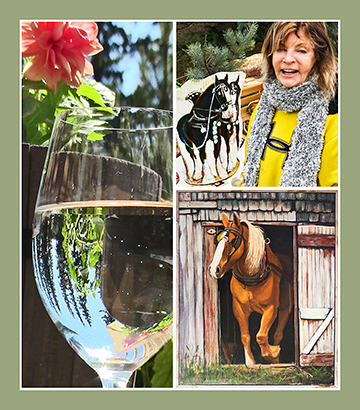 Cochrane artist Gwen Hughes, upper right by vase at Cochrane Farmers' Market, celebrates her love of horses in painting, and photographs beauty of topsy-turvy world in glass of water. Photos: left by Gwen Hughes, two at right by Warren Harbeck
Click for a larger version
I met a photographer recently who delights in making beautiful sense out of a topsy-turvy world. In fact, this Cochrane artist delights in celebrating the beauty of life-as-it-is through a wide range of media: not just photography, but painting, murals, sculpture, and ceramics, too.
Gwen Hughes introduced herself to me at our local A&W, where I have my first sip of coffee most mornings in the company of a who's who of our foothill town's old timers.
It soon became clear that Gwen and I share a great deal in common in how we experience the world around us.
"Life and the world-as-we-know-it, every moment, offer a flash of beauty, excitement and wonder," Gwen says. "If you look, you will see."
The beauty that Gwen sees has found creative expression in life-size sculptures of cattle for display in downtown Calgary, breathtaking vistas on pool-side murals in California, and ceramic figurines and horse-adorned vases for sale at the Cochrane Farmers' Market. (To view a retrospective of her art, click here.)
The beauty of horses has found particular expression in a painting in the entryway of her home. Honouring her love of horses as a youth growing up on a farm near Elbow, Sask., Gwen painted the 30 × 40 inch acrylic-on-canvas "Horse Leaving Barn" in 1979, at the completion of her studies at the Alberta College of Art. This one's "not for sale," she says.
But it's how she sees life through a camera that has especially caught my attention. Like me and my camera, she can't resist the serendipitous.
For example, on a hot afternoon a few weeks ago she was sitting at a deck table in Bragg Creek. As she was about to sip from a glass of water she'd been served, she looked, and there it was!
The beautiful evergreens of her surroundings were posing upside down through her glass of water and whispering, "Take our picture and show what an artist can do with a topsy-turvy world!"
And she did, as you can see in the accompanying photo.
Indeed, this was an unplanned dessert she was served at her outdoor table that day, a reminder of the special blessing that is hers:
"I feel I am blessed as a 'starving artist,'" she says. "I am always hungry for the next tasty treat around the corner."
© 2015 Warren Harbeck
JoinMe@coffeewithwarren.com