Artist's soulish encounters with nature transformative
COFFEE WITH WARREN, with Warren Harbeck
Cochrane Eagle, July 2, 2015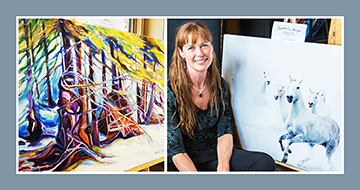 Diane Williams celebrates the "feminine dancing arms of the standing trees" in her oil-on-canvas "Standing" (left), and the spirit of some French horses in her photograph-on-canvas "Esprits de L'eau, Camargue."
Photos by Warren Harbeck
Click for a larger version
Southern Alberta artist/photographer Diane Williams honoured humanity's caring relationship with Earth's wellbeing in a show this past weekend that featured a quote from the 13th century Persian poet Rumi:
"Wherever you stand, be the soul of that place."
Her artistic statements made a nice addition to the many emailed responses I received to last week's column on how a sunset moment along Ghost Lake served as a reminder of the sacred trust that is ours to look after the health of our planet.
Before saying more about Diane's show, here are a few of those emailed responses:
The former pastor of Cochrane's St. Andrew's United Church, Jim Hillson, retired now and living in Medicine Hat, is grateful for Pope Francis's call to a holistic engagement with Earth's wellbeing.
"In last century the world faced the incredible challenges of two world wars," he writes. "In this century we face the challenge of coming to terms with the knowledge that we will destroy the planet if we do not change our way of living. At its heart it is a theological crisis: What do we believe in?"
Writing from Houston, Texas, Denise Youngblood Coleman, president of Country Watch, agrees.
"The planet is God's creation and we have a responsibility to treat it with the kind of stewardship deserving of God's creation," she says.
"As an island girl from a developing country (Denise was born in Trinidad), it is not lost on me that the worst devastation for ecological damage will be felt by the world's smallest and poorest countries."
And then there's this response from Springbank resident (my dentist) Ralph Dubienski.
"Wonderful images," he says. "I am always surprised by the variety that God has provided us within the world. It is so important to take care of what He has given to us."
Some time ago Ralph established Hopethiopia, a charitable organization committed to assisting struggling rural communities in Ethiopia.
"Much of our work has to do with restoring an environment that has been very badly degraded," he says. "It is amazing to see how things can turn around very quickly once there is a committed plan in place.
"When we first started the project there were almost no birds and very few insects in our area, but every year we catalogue the bird and insect populations and it is increasing yearly as the trees and vegetation grow."
Ah yes, standing with the trees and vegetation. This brings me back to Diane Williams' art show this past weekend at her Square Butte Ranches studio south of Bragg Creek, where she teamed up with equine sculptor and jewelry designer Simone Schlichting for their show, "Capturing the Spirit of Horses & Art."
I first encountered the plein air and equine artist a few years ago at Cochrane's Rustica Gallery. She was exhibiting paintings and a book based on her experiences among the horses of Sable Island. What caught my attention immediately was how her art was informed by the mystical writings of the 13th Century Persian poet Rumi.
Well, Rumi was once more part of her exhibition. Her paintings and photographs of wetlands, forests, horses and bears gave evidence of how she lives in harmony with Rumi's great line: "Wherever you stand, be the soul of that place" – or in her case, also to capture the spirit of that place.
Indeed, Diane herself is a work of art in the spirit of another of Rumi's sayings: "Let the beauty we love be what we do."
Thanks, all of you, for your responses in word and image.
© 2015 Warren Harbeck
JoinMe@coffeewithwarren.com