Beauty of rainbows points to hope beyond life's storms
COFFEE WITH WARREN, with Warren Harbeck
Cochrane Eagle, June 11, 2015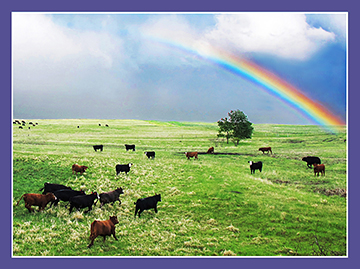 It was as if cattle (lower left) along Highway 22 south of Cochrane were being drawn by a rainbow of hope in their escape from a terrible storm. Photo by Warren Harbeck
Click for a larger version
Five years ago this week my wife Mary Anna and I were heading home to Cochrane early one evening after dining out in Bragg Creek. While we were eating, a tumultuous thunderstorm had broken out along the foothills, dumping buckets of rain, especially toward the north, right where we lived.
By the time we'd paid our bill and got on the road, the downpour had begun to subside. By the time we'd crossed over the Trans-Canada along Hwy 22, the sun was breaking through, and a brilliant rainbow had formed in the east.
But what was this? Just a kilometre or so further on, cattle in the pasture along the road appeared to be running toward that rainbow. It was if they sensed in that magnificent arc the promise of hope beyond the storm.
Ah yes, one of my favourite metaphors: rainbows of hope beyond the storms. And yes, my camera at hand, I had to stop and grab a shot.
I've decided to run that photo now because of the encouragement it has provided recently to several of our coffee companions with whom I've shared it privately and who have been going through storms in their own lives: health issues, soured relationships, financial crises, etc.
Hope-affirming rainbows such as this have two special associations for me personally.
First, they remind me of the inspiration for that Academy Award-winning ballad, "Over the Rainbow," from the 1939 movie The Wizard of Oz (lyrics by E.Y. Harburg, music by Harold Arlen, and sung by Judy Garland).
Rabbi Bernhard Rosenberg, in his essay, "'Somewhere Over the Rainbow' from a Jewish Perspective," explains how the immigrant team of Harburg and Arlen drew on their own Jewish identity in writing the song. They were motivated, he says, by the pogroms and looming Holocaust that beset their people in Europe. He sees hints of that, for example, in the following line:
"Someday I'll wish upon a star / And wake up where the clouds are far behind me."
The second association rainbows have for me relates to one of the guiding lights for these columns: a quote from Russian writer Dostoevsky, "The world will be saved by beauty."
I wrote a column on that quote back on Aug. 2, 2006. Briefly, I noted, Beauty is about the artistic expression of hope-filled non-material reality characterized by truth and goodness.
Rainbows? They're the Divine Artist's symbol of hope beyond the storm.
Which brings me around to a great coffee chat I had at the beginning of this week on that very topic. I met Jean-Noël André, of Quebec, producer of stage productions.
What really caught my attention was Jean-Noël's leading role in an international gathering of creative people that define themselves by the question: "And if Beauty could save the world?" (To read about the gathering in French, click here.)
These artists, writers and others understand that their calling is to be "windows for the soul" for engaging that which is intangible and mysterious, Jean-Noël said – "to allow the mystery of life to be experienced by everyone."
Well, I'm thinking that just might be what those cattle were experiencing as they followed the rainbow. Thank you, my coffee companions, for being rainbows to me.
© 2015 Warren Harbeck
JoinMe@coffeewithwarren.com