The Via Dolorosa inspires music, journey and reflection
COFFEE WITH WARREN, with Warren Harbeck
Cochrane Eagle, March 26, 2015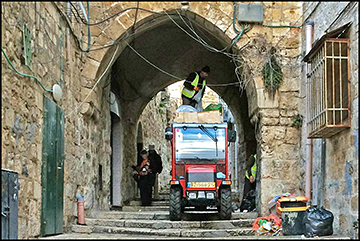 As we approached the first station along the Via Dolorosa, "the first clue that my expectations were unrealistic is our having to squeeze past a garbage truck." Photo by Leslie Blair
Next week is Holy Week in the Christian calendar. Historically, this is the most sacred time of the year for Christians, a commemoration of Jesus' final days preceding, but not including, Easter, and climaxing in His journey along what's come to be known as the Via Dolorosa.
Ah yes, the Via Dolorosa, "the Way of Sorrows." This is the route in the Old City of Jerusalem Jesus is believed to have walked while carrying the cross to His crucifixion.
I was reminded of that recently while listening to our Calgary coffee companion CARRIE STOESZ's rendition of Borop and Sprague's "Via Dolorosa," one of the selections on her 2008 CD, Carry the Light.
When I met with Carrie at Coffee Traders earlier this week, I asked her why she included the piece.
"It's a somber reflection on those emotionally draining hours for the Son of God," she said. "It is a challenge to us Christians in North America to risk an emotional connection with the Good Friday event."
Risking connection brings us to a recent experience of another of our coffee companions, LESLIE BLAIR, of Cochrane. While in Jerusalem earlier this year, she walked the Via Dolorosa. I asked her if she'd email us a few words about her journey. Here's what she wrote:
WE HAD BEEN to Bethlehem and touched the place of Jesus' birth. We had crossed the Sea of Galilee – in a storm! We had touched the rock of His agony in the Garden, mindful of our own Gethsemanes. The next day, we would walk the Via Dolorosa, the Jerusalem street on which Jesus carried His cross to the place of His crucifixion. I looked forward to it with combined anticipation and dread. Though I want to walk where Jesus walked, I shrink from suffering; my imagination is vivid; I know how this particular journey ended on that Good Friday.

I pictured a quiet walk, with ample time for solemn meditation at the stations along the way. Perhaps there would be little shrines, gardens and plaques on this street; I thought the street itself would be set aside in some way for the thousands of pilgrims who visit.

The day arrived. Taking turns carrying the large cross, we make our way to the first station, meeting children on their way to school and people walking briskly to work. The first clue that my expectations were unrealistic is our having to squeeze past a garbage truck that was just small enough to negotiate the narrow street. To my surprise, people live and work, sell souvenirs, shop for groceries, take out the garbage, and drink coffee with their neighbours on the Via Dolorosa.

Simple numbered doors with small signs mark most stations along the way. Each station has a story: Jesus falls under the weight of the cross; Jesus meets Mary, His Mother; Simon helps Jesus to carry the cross; Veronica wipes the sweat and blood from Jesus' face; and onward to the last stations at the traditionally-revered site of His crucifixion, burial, and resurrection, located within the ancient Church of the Holy Sepulchre, built over Golgotha and Jesus' empty tomb.

People paid us no mind as, hearts aching, we relived the last hours of Jesus. They see so many pilgrims here. What did they feel when He passed by with His cross, I wonder. The Romans used crucifixion as a brutal way to keep the population in line. Most likely, people felt sorry for Jesus, but turned aside in helplessness. Maybe, busy with their own concerns, they didn't notice at all. Would I have noticed the drama that infamous day in Jerusalem? I don't know.

How easy it is for us to miss the holy:

What was on Jesus' heart as He went to His death? I believe it was His deep love – His love for you and me.

—Leslie Blair, Cochrane
NOW BACK TO CARRIE'S rendition of "Via Dolorosa." Because the words resonate so beautifully with the Via's impact on Leslie, I asked Carrie if our readers could link to it on the Internet.
"Not yet," she said. Instead, she recommended we link to Sandi Patty's recording of "Via Dolorosa" set against cuts from The Passion of the Christ, Mel Gibson's epic 2004 motion picture about Jesus' last hours. To view the video, click here.
© 2015 Warren Harbeck
JoinMe@coffeewithwarren.com