Cochrane coffee companion treks the Annapurna Circuit
COFFEE WITH WARREN, with Warren Harbeck
Cochrane Eagle, December 18, 2014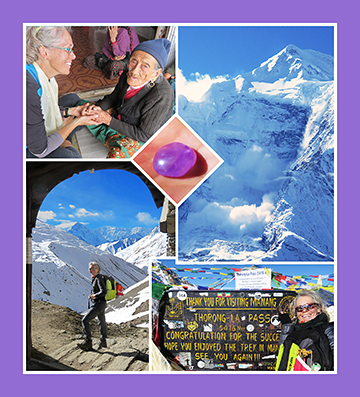 Clockwise from upper right: 7,937 m Annapurna 2; Marie-Linda Plante at top of the trail; sacred grandeur; 90-year-old woman welcomes Marie-Linda; (inset) amethyst from Cochrane is now part of the Annapurna Range.
Photos by Marie-Linda Plante
Click for a larger version
On Oct. 14 a severe snowstorm and devastating avalanches took the lives of 50 trekkers along the Annapurna Circuit in Nepal.
Barely a week later under safer conditions, one of our globe-trotting friends set out on the same route and is sharing with us some of her vivid memories.
Marie-Linda Plante, a member of Bethany Care-Cochrane's healthcare staff, is no stranger to long-distance hikes. Last year she journeyed to the top of Mount Kilimanjaro in Africa. The year before that she walked the Camino de Santiago in Spain (see my column for March 20, 2013).
But her 29-day, 400 km (250 mile) trek around the Annapurna Himalayan Range was in a class all its own.
The Annapurna Range actually has four peaks that share that name. They range in elevation from 7,525 m (24,688 ft.) to 8,091 m (26,545 ft.).
"The immensity of the mountains was humbling," Marie-Linda says. "There is a spirituality about Annapurna; perhaps it is the elevation, the clear blue sky, the silence, the comfortable warmth of the sun on the skin in the crisp air."
She made the trek with only what she could carry on her back – and with her 46-year-old Nepalese guide, Dhan.
"Travelling by myself gave me a sense of freedom, peacefulness, harmony within and without, as if my spirit and my body were catching up with each other. In the mountains, life slows down, allowing the luxury of time and harmony of mind to nurture that essence of being."
On Day 12 (Nov. 2) she reached the highest point on her trek, Thorong-La Pass, at 5,416 m (17,769 ft.). There she added an offering from us here in Cochrane. Amid a forest of prayer flags, she placed a small amethyst stone I gave her before she left.
And there, by the landmark sign celebrating their arrival, she met others from around the world also enthralled by the journey. "Total strangers hugged each other," she says.
She also embraced many of the village people she met along the way – people who, like the mountains, helped nurture her in the essence of being.
"I have learned much from the materially poor but spiritually affluent people living very simply in the Annapurnas," she says. "No matter how rich we are as tourists, we all have to use our own two feet to walk those huge mountains, just as the inhabitants do."
© 2014 Warren Harbeck
JoinMe@coffeewithwarren.com