Chris Hadfield earns praise for signing student's guitar
COFFEE WITH WARREN, with Warren Harbeck
Cochrane Eagle, October 30, 2014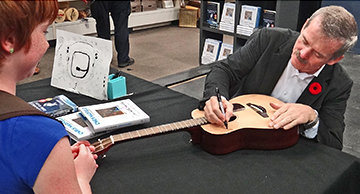 Retired Canadian astronaut Chris Hadfield delighted Cochrane student Emmeline Maillet-Snell by signing her guitar amidst autographing copies of his latest book, You Are Here, at Indigo Signal Hill in Calgary.
Photo by Richard Maillet
The beauty of our planet as seen from orbit merged with the beauty of humanity at an event my wife and I attended this past Sunday in Calgary.
Retired Canadian astronaut Col. Chris Hadfield, Commander of the International Space Station in 2012-13, was signing copies of his latest book, You Are Here: Around the World in 92 Minutes, a celebration of our planet in word and image. In his Introduction, Hadfield writes:
"I want to understand our world better. Seeing it from a different angle really helps, and no perspective is more radically different than the one you get when you leave the planet altogether and look back. . . . It's a helpful corrective to the frantic self-importance we are prone to as a species – and also a reminder to make the most of our moment on this beautiful, strange, durable yet fragile planet."
And indeed, even while signing books for over a thousand other fans that afternoon, he made the most of a moment by being especially present to young Cochrane fan Emmeline Maillet-Snell.
Emmeline, a Grade 4 student at Elizabeth Barrett Elementary School, is the daughter of Richard Maillet and Susan Snell. I'll let Richard tell the story in his own words:
SUNDAY MORNING STARTED like a lot of Sundays. My nine-year-old daughter Emmeline had a play date at the other end of Cochrane, so I drove her there. On my way back, my wife phoned me. She was quite excited, and her tone of voice was decisive. "I just saw on Twitter that Chris Hadfield is signing books at Indigo Signal Hill, and we are going." There was no doubt that we were heading to the bookstore.

Before we left, my wife said, "I am bringing Emmeline's guitar to get it signed." I objected, saying that he was signing books and it was unlikely that he would do anything else. But we were taking the guitar regardless of my objections.

We got to the store, and as you know, it was well organized, with so many people who wanted to have their selfie with the world-famous space communicator, singer and astronaut. He has provided such a positive image and educated so many on the space program and our relative importance on our blue planet. But as with any public figure, there is always a doubt as whether the man is genuine. We were about to find out.

The wait was long, about 4 hours, but finally they called our group: "Group number 32, please proceed to the lineup." So we went, still uncertain as to whether we would get the guitar signed. We had to have the right strategy; if we got the guitar out too soon, we might be told to put it back, and if we argued, we could have been removed from the line. Finally, with only two others ahead of us, Susan did take the guitar out of its case and was immediately spotted by the publicist agent:

"I am sorry, but Mr. Hadfield does not sign guitars."

Chris Hadfield, busy signing books, overheard the conversation and said: "No, no, no, bring the guitar; I will sign it."

As Commander Hadfield started to sign the guitar, Emmeline and her friend Chloe started singing "Is Somebody Singing," the song he sang from space that became such a huge hit. And there he is singing with the girls! For them (and for us, the proud parents) it was a magic moment they will remember all their lives.

Chris Hadfield had provided a measure of the great being he is: simple, accessible and thoroughly genuine.

—Richard Maillet, Cochrane
© 2014 Warren Harbeck
JoinMe@coffeewithwarren.com