Bethany Cochrane brings wisdom and class to Outhouse Races
COFFEE WITH WARREN, with Warren Harbeck
Cochrane Eagle, October 2, 2014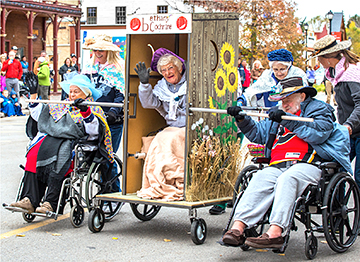 Bethany Cochrane's prize-winning team in this year's Outhouse Races, left to right: Theresa Biberger, Lynn Lenzen, Sylvia Wylie, Mary Goddard, George Stainger, and Shannon Lappin. Hidden behind the outhouse: Geri Dzus. Photo by Warren Harbeck
Not even a little rain on a chilly morning could keep this valiant team from participating in Cochrane's 14th annual Outhouse Races last weekend.
I mean, when ya gotta go, ya gotta go, right?
And the team of seniors from Bethany Cochrane really made a run for it, all the way to taking one of two prizes in this year's thrilling competition.
While loyal spectators lined the downtown Cochrane route, perhaps too pooped to participate, the Bethany team triumphed over 24 others to win the prize for – certainly not the fastest, but – the funniest entry of the day.
Ranging in age from 72 to 84, they put many of us younger folks to shame.
Theresa Biberger in her pale-blue hat, and George Stainger in his bright red Calgary Flames jersey, rode to victory in their racing chairs, while Sylvia Wylie occupied the throne of honour, and Mary Goddard, the oldest, made the whole race by foot behind George.
They even brought along their own cheering section, the three Bethany staff members who accompanied them throughout the elimination heats: Shannon Lappin, behind George; Lynn Lenzen, behind Theresa; and Geri Dzus, bringing up the rear.
And their outhouse with its iconic crescent-moon window? Not too shabby. Our foothills town may love its old-time cowboy heritage, but that's real toilet paper in that thar privy – no corn cobs there!
Bethany Cochrane is home to folks with complex health needs unable to remain in their own homes.
This is the fourth consecutive year that Bethany has added their wisdom and class to the crowd-pleasing event. Their first time around, I'm told, they used an authentic outhouse donated by a former Bethany resident, and they've been on a roll ever since, wiping out the competition.
For me, taking in their amazing performance from the sidelines never ceases to be a refreshingly moving experience!
Now, as I mentioned, Bethany Cochrane took the prize this year for the funniest team.
The prize for the fastest team went to the youth wing of the provincial Wildrose Party, Cochrane Constituency. (Actually, Wildrose ran two teams, the other being their senior team, running with the same outhouse but at different times.)
The Cochrane Outhouse Races were the brainchild of Donna Koper, original owner of Heavenly Outhouse, a downtown Cochrane shop for beautiful items for the home, from bathroom to bedroom and beyond. Carrying on the tradition is current owner Karrie Peace.
"We had 25 teams run this year, a record number, so 125 racers," Karrie says. "I have never seen teams put so much effort into their outhouses and the pranks they played."
The entrance fee, along with related donations, goes to support the Cochrane Activettes' Christmas Hamper program that benefits many families in need in our area. By the end of this year's race nearly $11,000 had been raised, with promises of more donations to follow.
About this, Karrie says: "The support we show the Activettes and all their quiet, good work (God bless them) and the team spirit and laughter that happen – how can it be better than this?"
© 2014 Warren Harbeck
JoinMe@coffeewithwarren.com