Welcome-back tribute to glorious Autumn in word and image
COFFEE WITH WARREN, with Warren Harbeck
Cochrane Eagle, September 25, 2014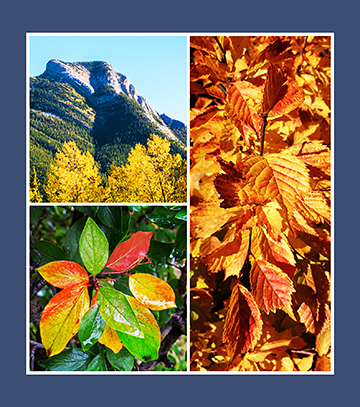 Clockwise from top left: yellow Aspens below Heart Mountain, golden Double Flowering Plumb leaves outside St. Mary's Church in Cochrane, and Cotoneaster starburst on our lawn are autumn's gifts to our valley. Photos by Warren & Mary Anna Harbeck
"Autumn," exclaims Bragg Creek writer Lee-ann Harder, "of all the seasons in a year you are still my most preferred."
Cochrane folks have come to know Lee-ann through the visually engaging "Spring is in the Air" art shows she's mounted here in recent years. But her aesthetic passions aren't limited to canvas. Our nature and life-inspired coffee companion has taken up the pen, too.
In fact, she's allowing me to celebrate this first week of autumn by quoting her yet-unpublished tribute to the season.
First, however, let me share some of the delights my wife and I ourselves, cameras in hand, experienced in its opening acts.
The weekend began for us with a starburst of reds and gilded chartreuse on the Cotoneaster hedge bordering our lawn.
Saturday afternoon we drove up to Exshaw, from where we had an awesome view of Heart Mountain decked out in cheerful yellow Aspens.
Then on Sunday we just couldn't resist a photo of the treasure chest of golden Double Flowering Plumb bushes beneath the bell tower at St. Mary's Church in Cochrane.
Which brings me back to Lee-ann's poem, "Autumn":
Autumn, of all the seasons in a year
you are still my most preferred.
When the deep greens of summer
begin to fade I,
without effort on my part, begin to
feel my energy rising up.
I posit that this unfettered charge
might come from
my daily viewing of your ever-
changing exhibition of colors
and those abounding earthy scents
that wander in and out
of my nostrils until I feel slightly
inebriated.
It could be too, that it's the way
your spotted golden leaves
glisten in the evening sunlight
or from watching the early
morning frost clinging to
every plant, leaf and berry
until the melt.
It may also be the way the after-
noon sunlight on my daily
walk gleams new life into
every withered flower and weed.
I do not know for certain, but will
assume that it is these gifts of
autumn that make me want to
keep you for as long as I can
before the white ensconce
of winter.
Yes, Lee-ann, I too think autumn is "my most preferred" season. Thanks for sharing the joy with us.
© 2014 Warren Harbeck
JoinMe@coffeewithwarren.com