What will it be? Inspiration? Canine recreation? Romance?
COFFEE WITH WARREN, with Warren Harbeck
Cochrane Eagle, September 11, 2014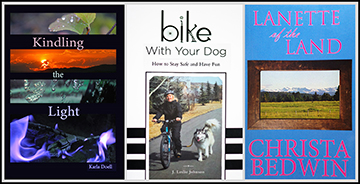 Recent paperbacks by three local authors include, left to right: Kindling the Light, by Karla Doell; Bike With Your Dog, by J. Leslie Johnson; and Lanette of the Land, by Christa Bedwin. Cover images by authors
Click for a larger version
What rekindles your inner flame? The last roses of summer kissed by first snow? A bike ride with your dog? Romance? These and more have captured the imaginations of three Cochrane-area authors.
Karla Doell, a fulltime writer who embraces the inspiration of everyday experiences, has just published her first book of poetry, Kindling the Light.
In this photographically engaging, spiritually refreshing anthology, Karla contemplates starry nights, the perfect season, watermelon seeds, hugs, and so much more that has enriched her life since her youth.
Of summertime clouds she says: "They live, spark / billow, shatter / metamorphose / and fade away…"
And then, as if reflecting on our first-snow-adorned early-autumn poplars and ponds, Karla says: "A mosaic of gold, orange, russet and auburn / coalesce at the water's edge / The last of the leaves linger on branches / waving goodbye to their mirror image / 'Till next year' . . . 'Winter is coming, winter is coming'"
Kindling the Light is available directly from the author at wordetching.com, or through Amazon.
Speaking of southern Alberta's tempting invitations to the outdoors, our second writer, J. Leslie Johnson, is totally committed to enjoying it with her furry best friends . . . by bike!
In Bike With Your Dog: How to Stay Safe and Have Fun, Leslie suggests ways in which dog owners and their faithful companions can reap the benefits of dog-biking. Often seen biking around town with either her locally-adopted Siberian Husky, Koda, or her Malamute, Nuska – or both at the same time! – safely leashed to her bike, she says:
"Dog biking is a great way to exercise high-energy dogs. It is tremendously time-efficient for dog owners because you can give your dog a better workout in a half-hour bike ride than a two-hour walk."
Strong on research, she pays special attention to the choice of bikes and leashes appropriate to owners' and dogs' needs. Sensitive to "the importance of 'being present' for your dog and monitoring him at all times when dog biking," she addresses such common-sense matters as paw-friendly terrain, dealing with distractions from off-leash dogs, and winter-riding skills.
And yes, she even suggests ways for managing your furry friend's bathroom breaks.
Bike With Your Dog is available locally at Trailblazers Camping and Outdoor Store, or through Amazon.
If our first two authors look at inspiration and recreation, our third looks at romance – specifically, Alberta-based romance with far-flung interests.
Christa Bedwin is a science textbook editor who doubles as romance novelist. Lanette of the Land is her second in a trilogy of romance novels (along with The Celtic Coast Connection and Two Secrets and a Chase).
Lanette is about "a tough ranch girl raised on the prairie," Christa says. "She falls unwittingly for a guy from Toronto, of all things. Add the fact that he's left a hard-working big-money lifestyle to be a laid-back mountain adventure guide, and Lanette's prideful and stubborn mind isn't sure she can accept him, no matter how much she's attracted. Luckily, he's no wimp, and he persists until he's won her heart."
Christa has long loved "the tradition of setting romance novels in exotic locations," she says – places like Greece, New Zealand and Australia. "Why not write novels just as delicious as that, but steeped in the culture that surrounds us here in Alberta?"
And that's exactly what she's achieved with this trilogy, available through Amazon.
Happy reading, folks!
© 2014 Warren Harbeck
JoinMe@coffeewithwarren.com