Wildlife photographer exchanges looks with wide-eyed owls
COFFEE WITH WARREN, with Warren Harbeck
Cochrane Eagle, August 21, 2014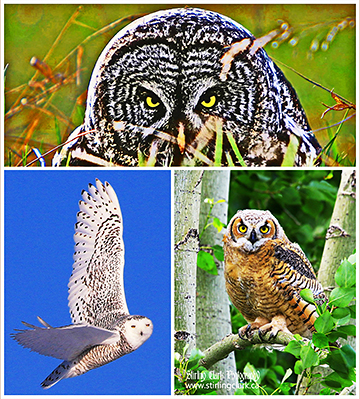 Wildlife photographer Stirling Clark delights in wide-eyed owls. Clockwise from top: a great gray gives him the eye from the grass; a great horned owlet stares him down from a poplar; a snowy owl checks him out on the wing.
Photos by Stirling Clark
Photographers love good-looking subjects, but one subject in particular looks and looks and looks real good to one of our Cochrane coffee companions.
Wildlife photographer Stirling Clark (stirlingclark.ca) is fascinated with birds – all kinds of birds: red-winged blackbirds, long-legged black-necked stilts, high-flying bald eagles.
But especially owls. He delights in exchanging looks with wide-eyed owls.
For example, there's that great gray owl he encountered west of town along Grand Valley Rd. this past spring. While photo-cruising at dusk, he noticed a pair of piercing yellow eyes staring up at him from the grass along the side of the road.
Apparently, Great Gray had just taken down a mouse and was jealously guarding it with its talons. Stirling pulled over, grabbed his Canon 70D DSLR, attached his beloved 70-200mm f/2.8L lens for this special moment, and proceeded cautiously toward his wary subject.
Great Gray didn't move a muscle, never taking its eyes off Stirling for a second as he crouched down only a few paces away. It was as if Great Gray were saying: You touch my prey, you better pray!
Stirling didn't take Great Gray's dinner, but over the next half hour he did take some amazing photos, including the one at the top of the accompanying collage.
Speaking of birds of prey, another owl gave him the eye while perched on a poplar limb near Blackie at dusk.
"The little hoot was one of three great horned owlet siblings I'd been watching for an hour or so," Stirling says. "This fellow had been sleeping on the rooftop of an abandoned shed, then got a burst of energy and flew into the nearby poplar tree. The owls had become more tolerant of me, as I was out there a few times photographing them."
And then there's that breathtaking snowy owl that looked Stirling in the eye near Irricana one very cold January day.
"Often perched on power poles, they do not let you get too close," Stirling says. "I caught this guy as it flew by me."
Reflecting on Stirling's owls that looked and looked so good as if their lives depended on it – and indeed they do! – I'm reminded of wisdom I came across on a poster many years ago. It was a photo of another wide-eyed owl. The caption? "You learn a lot by watching."
© 2014 Warren Harbeck
JoinMe@coffeewithwarren.com