Stampede days in Cochrane a friendly, tasty, cheery time
COFFEE WITH WARREN, with Warren Harbeck
Cochrane Eagle, July 10, 2014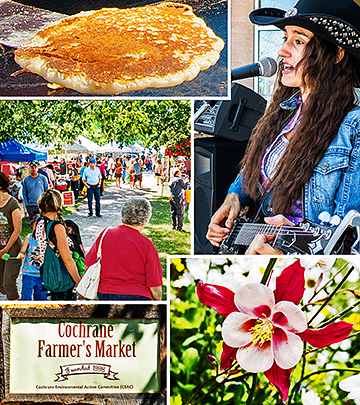 Stampede time in Cochrane, clockwise from top left: Royal LePage Pancake Breakfast featuring music by Kaitee Dal Pra, a welcoming columbine along Linda Benedictson's Glenbow sidewalk, and Cochrane Farmer's Market at Cochrane Ranche. Photos by Warren Harbeck
Stampede time in our Western Alberta foothills town is nothing short of . . . Yahoo!
And there's way more to the celebration of our early-summer festivities than rodeos and the Calgary Stampede.
Take this past weekend, for instance.
It started out for Mary Anna and me Saturday morning with a visit to Cochrane's outdoor Farmer's Market. Only, this past weekend when we arrived, we were delighted to discover that organizers had moved the kiosks off the dusty, crowded parking lot and onto the Cochrane Ranche Historic Site itself.
Poplar-shaded paths allowed us to mingle comfortably with neighbours and visitors in one of the largest turnouts we've encountered at the weekly market for local crafts and goodies. The spirit among sellers and buyers alike exemplified the kind of hospitality our town is famous for.
Well done, Cochrane Environmental Action Committee!
And then there was Monday morning's Royal LePage Pancake Breakfast in the parking lot behind the ATB. Things went from batter to Wurst (German word for sausage) as tastes and talent combined with Guy's great coffee to give us a totally memorable experience.
Did I say talent? While we were enjoying those hot-off-the-griddle golden-brown goodies, Cochrane's own happiness queen of Nashville North fame, Kaitee Dal Pra, performed some of our all-time favourites, including Leonard Cohen's Hallelujah. (More about that in a moment.)
And of course, what a wonderful excuse to sit and chat with longtime friends for a few minutes. Linda Benedictson had spotted us looking for a table and invited us to sit with her.
Linda and Mary Anna have something special in common: they both love flower-gardening. After we finished our breakfasts, we paid a visit to each other's yards. We live only a couple of blocks apart in glorious Glenbow, a part of Cochrane resplendent with floral-decorated lawns.
Sure enough, as we approached Linda's house, there along the sidewalk to welcome us was one of her stellar crimson columbines, a fitting farewell for this week's column on my love for Cochrane in the summertime.
To echo Leonard Cohen's words so beautifully sung by Kaitee: "I've told the truth, I didn't come to fool you . . . With nothing on my tongue but Hallelujah"!
© 2014 Warren Harbeck
JoinMe@coffeewithwarren.com