MacDonald-Smith 'perfect in every way' in Mary Poppins
COFFEE WITH WARREN, with Warren Harbeck
Cochrane Eagle, June 12, 2014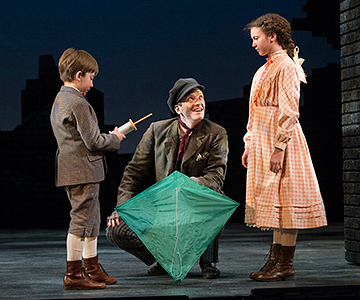 Bert (centre, played by Cochrane High alumnus Andrew MacDonald-Smith) discusses kite-flying with Michael and Jane Banks (played by Jack Forestier and Zasha Rabie) in Theatre Calgary's production of Mary Poppins.
Photo by David Cooper
When Mary Anna and I attended Theatre Calgary's production of Mary Poppins last week, a Cochrane High grad with Ghost Lake Village roots left us feeling supercalifragilisticexpialidocious!
We've known Andrew MacDonald-Smith since the mid-1990s, when as a Scout he'd drop by our then-residence at GLV to collect pop bottles to raise funds for a worthy cause.
Now nearly 20 years later as Bert, the chimney sweep, in Cameron Macintosh's Disneyesque musical adaptation of P.L. Travers' magical children's story, he's collecting applause and bringing audiences to their feet for a worthy performance.
I first caught a glimpse of Andrew's stage potential when, as a teenager, he'd delight folks at GLV's summer regatta and talent shows with his lip-sync interpretations of such favourites as Splish Splash and Itsy Bitsy Teenie Weenie Yellow Polka Dot Bikini.
And who among local audiences can forget his contributions to Cochrane High's music programs under Merrilie Stonewall that included Sound of Music and Nunsense? Or his roles in Stacie Harrison's Shakespeare in the Valley productions that included A Midsumner Night's Dream and Much Ado about Nothing? And of course, there was the Seraph Theatre Company's production of The Tempest.
(See my column for May 12, 2004 on how our foothills community helped raise and praise this young actor into the status he rightly enjoys today.)
More recently, the graduate of MacEwan University's musical theatre program has performed in New York City, Vancouver and Edmonton.
Before coming to Calgary this spring, Andrew played in Edmonton's Citadel Theatre production of Mary Poppins. Commenting on his performance, Edmonton Sun theatre critic Colin MacLean wrote:
"You know from the very beginning when lanky Edmonton song and dance man Andrew MacDonald-Smith saunters on stage as Bert, the sidewalk scrivener, chimney-sweep and genial narrator, that things are going to be just fine."
And things are absolutely just fine here, too. Performing with Andrew is a talented cast featuring Blythe Wilson as the mysterious nanny Mary Poppins, who umbrella-glides into stern Mr. Banks' (Vincent Gale) dysfunctional household.
About his own role, Andrew says: "Playing Bert has been a dream role for me, and my journey with this production has been 'practically perfect in every way.'"
Apparently, Theatre Calgary's production of Mary Poppins as a whole has been judged practically perfect in every way, if popular response is any indication. Originally scheduled to end its run at Calgary's EPCOR Centre for the Performing Arts this Sunday, it's been held over through June 22.
Inspired by this production – and especially by Andrew's stellar performance – you just may want to join the Banks family and go fly a kite, too!
© 2014 Warren Harbeck
JoinMe@coffeewithwarren.com