An orchid, Alzheimer's, and the affirming power of beauty
COFFEE WITH WARREN, with Warren Harbeck
Cochrane Eagle, May 22, 2014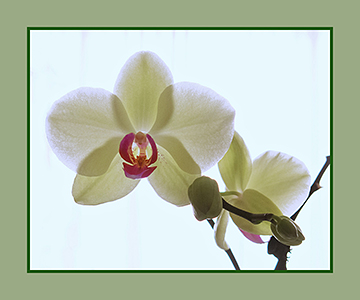 An orchid on our coffee table speaks of the therapeutic power of beauty in our lives through the affirming presence of friends and family, a metaphor for the importance of beauty and presence in our relationships with those with Alzheimer's. Photo by Warren Harbeck
Last summer Cochrane coffee companion Lorraine Champagne gave my wife and me a gift that just keeps on giving in surprising new ways. She brought us a beautiful orchid that immediately found a place in the centre of our coffee table. It had lost its blossoms during the winter, but has recently burst forth in unanticipated new glory.
It's become a symbol to us of the power of beauty to affirm warm relationships and a sense of wellbeing – an example of what Russian writer Dostoevsky once said: "The world will be saved by beauty."
That orchid has also come to represent the essence of many of the responses I've received to our current series of columns on Alzheimer's disease.
Take the role of beauty at Cochrane's Bethany Care Centre, for instance. Words of gratitude for the therapeutic power of the art at the centre have come from both Nipper Guest and Sylvia Wylie. Nipper's wife, Eleanor, resided there during her encounter with Alzheimer's, as did Sylvia Wylie's husband, Peter. (See May 8 column.)
At the entrance to the wing where their spouses spent their last days, murals by Cochrane artists Janet Armstrong and Sarah Dubois bring comfort and order to the lives of residents and guests alike.
The beauty of relationships with folks with dementia underlies books recommended by several of our readers. Leanne Forest is grateful for Creating Moments of Joy, by Jolene Brackey, who emphasizes meeting the Alzheimer's patient at whatever mental stage they're at right now and celebrating their greatness in the moment.
For similar reasons, Marie-Linda Plante recommends Still Alice, by Lisa Genova, and Andy Pickard recommends The 36-Hour Day, by Nancy L. Mace and Peter V. Rabins.
Peter Wylie's daughter Peggy Hoffman found the novel, Remember, by Karen Kingsbury and Gary Smalley, especially helpful.
"The book discusses how people can talk with family members who no longer remember your name or perhaps even you," Peggy says. "Dad lost our names about six years into his journey, but I found it fascinating that his face would still light up when he saw us, so he knew we were special to him. Through our family experience with Dad, I think we have all learnt to enjoy all the best life has to offer because all can be lost suddenly – or as in Dad's case, gradually."
Peggy's sister Shauna Bjorndahl responded to our series with a Father's Day poem she wrote in 2008 in which she honours the loving relationship she had with her father, even though names had long been forgotten.
Her poem goes: "He doesn't know me – / though he does; / his eyes light up / with recognition / that I am still / someone he loves."
Peggy and Shauna's ski-guide brother Ken Wylie, in his soon-to-be-released book Buried, picks up on life's brevity. Not specifically about Alzheimer's, Buried recounts Ken's experience in 2003 when he and his ski party fell victim to a massive avalanche in British Columbia's Selkirk Range, claiming the lives of seven of his companions – and highlighting the importance of relating to others in the now.
Responding to our current series, Ken lamented that there were so many things he wishes he had discussed with his father. But once Peter developed Alzheimer's, "he was there, but he was no longer even able to have the conversation," he said. "We never had the face-to-face, heart-to-heart conversation we needed."
The last word belongs to Jim Allan Monk, to whom I referred in our May 8 column. He's found the book Gentle Care: Changing the Experience of Alzheimer's Disease in a Positive Way, by Moyra Jones, very helpful for his own journey with his wife, now in an extended care facility in Calgary.
Jim says, "The main thing for the caregiver is to accept that Alzheimer's is there. Don't hide it. What's lost is lost. You have to celebrate what's left."
On the affirming power of beauty and presence in our relationships with loved ones with Alzheimer's, Jim adds:
"All potential happiness is still there. It's up to the rest of us to encourage their achievements and happiness."
© 2014 Warren Harbeck
JoinMe@coffeewithwarren.com