Readers see wisdom of grandparents in Rollinmud painting
COFFEE WITH WARREN, with Warren Harbeck
Cochrane Eagle, March 6, 2014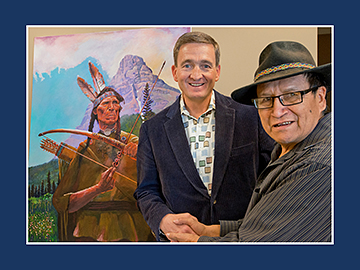 Alex Baum, centre, owner/GM of Cochrane Toyota, purchased Roland Rollinmud's painting of his grandfather John Hunter. It will be on display at the dealership by the end of March. Photo by Warren Harbeck
Last week's column featured Morley artist Roland Rollinmud and his recent painting, "The Spirit of the Bow and Arrow," a tribute to the inspiration of his grandfather John Hunter in his life.
From the many meaningful responses I received, you obviously entered into Roland's very heart in creating this oil on canvas: the importance of grandparental influence.
For instance, Cochrane reader May Van De Wark wrote: "I enjoyed last week's column about Roland Rollinmud and his grandfather. I have great memories of the things I learned from my two grandmothers. I am sad for anyone who does not have grandparents nearby."
That sentiment was echoed by award-winning Alberta journalist Linda Slobodian, residing now in Manitoba: "Every child should be so blessed to have a grandfather like that. Stunning painting."
Such feelings must run deep in the blood of journalists, because I received the following response from retired wordsmith Colin Burke, all the way from Newfoundland:
"I liked this column particularly," he wrote, "because it contained a specific lesson valuable on two levels, one of which might come in handy if I ever wanted to make a bow. At the other level it emphasizes that knowledge has to be handed on, and the best way to do that is by transmission from ancestors to offspring."
Colin has a deep commitment to "the fundamental principle of natural justice, which is that persons deserve the effects of what they do," he says. That should be something we learn from our parents and grandparents, but most parents and grandparents in the past century "have been too busy earning a living" to mentor the younger generation as Roland's grandfather mentored him.
From a slightly different perspective, aerospace visionary Sandford "Sandy" McLeod, formerly of the Cochrane area, wrote from the Kootenays:
"Simply wow! Roland's grandfather's bow-making illustrates the very first ancient step toward composite, high-tech design manufacturing technologies and assembly solutions that now exist in high performance aircraft, fighter jets, submarines and space vehicles. That processing of nature's wood, bow-in-water process, was a full-blown, God-given advanced method of assembly and composite manufacturing. The most important part? Patience and teaching.What a valuable lesson. Please quote me to Roland out of respect. If only all could learn those lessons in that way."
Our final note is from Alex Baum, owner/GM of Cochrane Toyota. As soon as Alex learned of Roland's painting, he offered to buy it to add to his dealership's collection of works by local artists.
"I have 'The Spirit of the Bow' at the framers now and it should be ready near the end of the month," he says.
"We have a number of Roland's pieces, along with those of other Cochrane and area artists. We have some world-class artists that choose to call Cochrane and area home, and for me, anytime that you enjoy a piece of art and you get to hear the story directly from the artists, how good is that!"
Alex says he hopes to have Roland's piece displayed in the dealership's Community Centre no later than March 25. "We welcome anyone who wants to come and have a look at something special!"
© 2014 Warren Harbeck
JoinMe@coffeewithwarren.com