Cochrane lecturer celebrates the legacy of C. S. Lewis
COFFEE WITH WARREN, with Warren Harbeck
Cochrane Eagle, January 2, 2014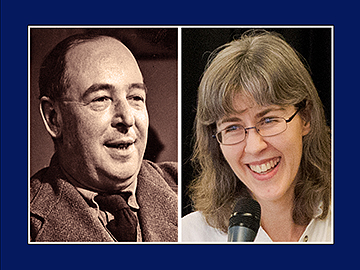 The literary legacy of C. S. Lewis will be lauded by his Cochrane fan Elaine Phillips in her public lecture series "Surprised by Jack" Jan. 6 to10 at the Canadian Southern Baptist Seminary & College.
Photos: left supplied; right by Warren Harbeck
Among C. S. Lewis's millions of fans, I've met none more devoted than Cochrane lecturer Elaine Phillips.
The Irish-born author of The Chronicles of Narnia "nourishes my love of reading," the Lewis aficionada says.
"In his autobiography, Surprised by Joy (1955), Lewis recalls early memories of 'endless books,'" Elaine says. "I began reading when I was four and spent days in companionable solitude, lost in the world of words. 'You can never get a cup of tea large enough or a book long enough to suit me,' says Lewis. I agree."
Lewis (1898–1963), known as "Jack" among family and friends, died the same day US President John F. Kennedy was assassinated. His writings covered a wide range of genres, including poetry, fiction, literary criticism, and apologetics.
For most of his fans, however, in addition to the Narnia series, he's probably best known for The Screwtape Letters, The Great Divorce and Mere Christianity.
These writings reflect his adult conversion from atheism to Christianity, about which he says: "I believe in Christianity as I believe that the sun has risen: not only because I see it, but because by it I see everything else."
This quote is a favourite of Elaine's, perhaps because it relates to how she sees a dark event in her own life upon arriving in Canada, as follows:
Originally from South Africa, Elaine and her husband Robin moved to Alberta in 1998 and two years later made Cochrane their home. Since 2004 Elaine has been an adjunct instructor at the Canadian Southern Baptist Seminary & College northwest of town.
When setting out for Canada, she included among her belongings her entire C.S. Lewis library. But the enthusiastic white-hat welcome she and Robin received at the Calgary airport was tempered within two months by very unwelcome news.
"Our container of earthly possessions would not be joining us," she says. The ship carrying all their belongings had run into Hurricane Mitch in the Caribbean.
"In November 1998 we received a phone call from the shipping company saying our boxes of books and countless other treasures had descended to a watery grave. So began a lifestyle of relative simplicity and frugal living, since we owned only what fitted into two suitcases we'd carried with us on the plane."
To this day, Elaine remains "in awe at the generosity" of her new-found friends who blessed them with many gifts, including a couple of C.S. Lewis books to replace some she had lost.
The descent of her library into the ocean's depths in no way dampened her spirits, for by the sunlight of faith she was able to see this dark event in a redemptive context. As if in response to Narnia's great lion Aslan, she weathered the onslaught of evil Hurricane Mitch to become an interpreter of Lewis's writings.
Elaine will be giving a public lecture series "C. S. Lewis: Surprised by Jack" Jan. 6 to 10, 1 to 4 pm, at the Canadian Southern Baptist Seminary & College for a special community-member audit fee of only $50. For more information, phone CSBS registrar Kathleen McNaughton at (403) 932-6622 ext. 221 or email her at registrar@csbs.ca.
© 2014 Warren Harbeck
JoinMe@coffeewithwarren.com