Blessed are they who embrace peace, goodwill for Christmas
COFFEE WITH WARREN, with Warren Harbeck
Cochrane Eagle, December 19, 2013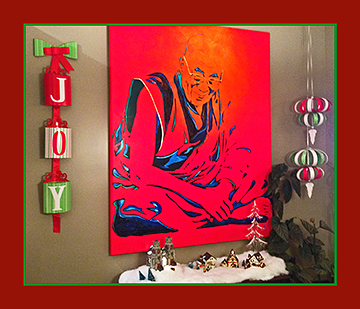 Todd and Rayanne Simmer include "Enlightenment: Dalai Lama" by Mimi Stuart in their décor as a reminder that Christmas is about peace and goodwill.
Photo by Warren Harbeck
Click to view a larger version
While visiting Todd and Rayanne Simmer's home recently, I was intrigued by a portrait of the Dalai Lama in the midst of what was obviously a Christmas display. I mean, the Dalai Lama, the foremost Buddhist leader of our day, though a man of goodwill, is hardly a member of a Christian church!
But Todd, owner of Big Sky Landscaping, had his reasons for this interior arrangement.
Before revealing those, however, I want to return to my praise in last week's column for Nelson "Madiba" Mandela, another man of goodwill, but one who seldom spoke publicly of his own religious convictions. In doing so, allow me to share a conversation I just had with one of our newest coffee companions, Kristian Wold.
Kristian, a Cochrane resident for the past six months, is co-pastor of Hope Lutheran Church in northwest Calgary. An avid outdoorsman and mountain biker, he feels right at home here – especially because he really likes our coffee culture.
In fact, it was at Cochrane Coffee Traders that we first met a few weeks ago. When once again we sipped our morning brew together this week, he followed up on my reference to Mandela, telling me about the Advent sermon he delivered this past Sunday.
In that sermon he stressed how Mandela, in response to his 27 years as a political prisoner, emerged "more resolute than ever to see a society of respect and dignity built in South Africa." For Mandela, however, the secret to building that new society was not revenge, but forgiveness, as Kristian noted in Madiba's own words:
"As I walked out the door toward the gate that would lead to my freedom, I knew if I didn't leave my bitterness and hatred behind, I'd still be in prison."
As Kristian so rightly observed, here was a man of peace and goodwill, an example for all of us in our own struggles with personal prisons and temptations toward bitterness.
Now, what does any of this have to do with Todd's inclusion of the Dalai Lama's image in his Christmas décor? It really is all about the Christmas spirit of peace and goodwill, he says.
One of Todd's favourite quotes from the Dalai Lama is also a favourite of the artist: "If you want others to be happy, practice compassion. If you want to be happy, practice compassion."
The artist in this case is Mimi Stuart, of New York. Her 60 by 48 inch giclee hanging in the Simmer home is titled "Enlightenment: Dalai Lama."
Very much like Mandela, the exiled spiritual head of the Tibetan people has many reasons of his own to be bitter and vengeful, but he's chosen to pursue a different path.
Compassion, mutual happiness and forgiveness are part and parcel of peace and goodwill, not only for these two Nobel Peace Prize laureates, but for the angels who announced the birth of Jesus to the shepherds, too.
My Christmas wish for all of us, then, my coffee companions, is that we too embrace peace and goodwill as our reflection of God's act of peace and goodwill that first Christmas.
© 2013 Warren Harbeck
JoinMe@coffeewithwarren.com