Rainbow a harbinger of hope and love for cancer patient
COFFEE WITH WARREN, with Warren Harbeck
Cochrane Eagle, May 1, 2013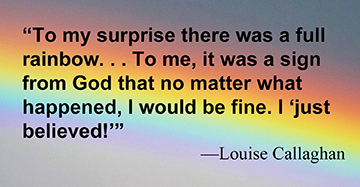 In last week's column we celebrated the soul-rekindling return of robins to our winter-weary foothills.
For one of our Cochrane coffee companions, however, it was a rainbow that has come to symbolize the rekindling of the cancer-weary embers of her soul.
Back in 2003, healthcare professional Louise Callaghan was diagnosed with Non-Hodgkin's Lymphoma (Stage 4). The prognosis was pretty glum – two to five years. A devout Catholic, Louise faced tests of her faith that resulted in her recommitting herself to a lifestyle of hope and love.
In her own words and with her permission, I'd like to share her story with you, as follows:
I have been a nurse for 40 years, including 22 years in palliative care. Now it was my turn to be on the other side, to be the patient. This was not a role I took on easily, as I had always been the caregiver. I had a lot to learn about faith, hope, and love and how they related to me.
The realization that I had cancer certainly did cause me anxiety. Shortly after Pope John Paul II died, I listened to one of his first papal speeches. One of the first things he said was, "Just believe!"
I realized at that moment that, if I just believed in God's will, I would be fine. "Just believe" became my mantra for the next couple of years as I went through chemotherapy and a stem cell transplant. I truly did believe.
My faith seemed to be tested several times. On one occasion while I was in chemotherapy, we were driving to the Tom Baker Cancer Centre in Calgary to get the results of a bone marrow biopsy to see if the cancer had returned.
It was an overcast and rainy day. I was saying my rosary. My husband Rick asked me to stop praying for a moment and look out the back window of the car.
To my surprise there was a full rainbow. It was unbelievable! To me, it was a sign from God that no matter what happened, I would be fine. I "just believed!" The doctor's news was not good: the cancer had returned and further treatment was required. But I believed that God had a greater plan.
In January 2005 I had a stem cell transplant. It was truly a humbling experience to be so sick and so weak. For three weeks I lay in hospital, often asking myself: What's my purpose in life? What does God want me to learn from this experience?
Over the next six months, I learned the answer to these questions through my family, my friends, my colleagues at work and my church prayer group. I decided that the answer to both questions is simply to love and to care for one another.
The support I received and the love I felt from everyone around me was incredible.
For example, there were my nursing friends who made positive affirmation cards for me to read during my chemotherapy. Then there were my church and the prayer chain group who prayed for me every day and still do, many neighbours who made meals, and two others who created my beautiful front flower garden when I was not allowed to garden. The love I felt from the get-well cards and emails was overwhelming.
I will never forget the friend who came to visit and ever so gently massaged my baldhead, helping me to truly relax and forget all the side effects of the treatments; the love of family who travelled across Canada to spend time with me during chemo treatments was so healing; and my husband, who sat with me every night in the hospital watching my delirium from the various medications that I was taking.
The love I felt during this most vulnerable time in my life was truly an incredible gift from God. I realized life is more about the small and simple things we can do for each other than about trying to create something big and unattainable.
Those simple acts of love fanned the embers of healing in me.
It has now been almost 10 years since my diagnosis. I thank God every day for teaching me about the true power of faith, hope and love and its impact on healing. It is just as the Apostle Paul wrote in the Bible: "And now faith, hope and love abide, these three, and the greatest of these is love."
Thank you, Louise, for this rainbow lesson in the rekindling power of love.
© 2013 Warren Harbeck
JoinMe@coffeewithwarren.com