Pancake breakfast adds pounds but cements friendships
COFFEE WITH WARREN, with Warren Harbeck
Cochrane Eagle, July 11, 2012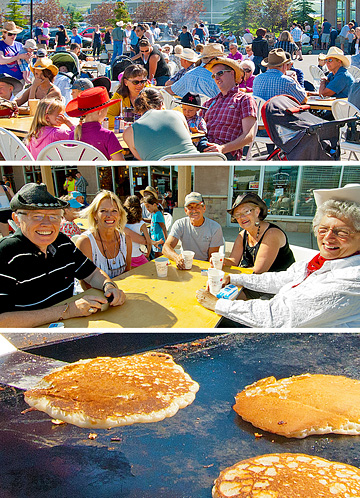 Cochrane's Stampede pancake breakfasts are great times for making new friends. At the July 9 event (top) in the parking lot behind the ATB along Grand Blvd., my wife, Mary Anna (at right in middle photo) and I met (left to right) Warwick Cooper from Toronto, his Cochrane sister, Fiona Horton, Fiona's husband Don, and Warwick's wife, Annette.
Photos by Warren Harbeck
In the spirit of our Alberta foothills community's western hospitality, evident to all especially during Calgary Stampede time – it's the Greatest Outdoor Show on Earth's 100th anniversary! – we tell our diets to take a holiday, and we attend as many pancake breakfasts as we can, chat with old friends – and make new friends.
Lots of new friends!
And through these wonderful friendships, we travel by story to the ends of the earth, as well as hear from our neighbours why they've embraced Cochrane as their home.
For instance, at Monday's pancake breakfast in the parking lot behind Cochrane's ATB Financial building along Grand Blvd. – one of many such breakfasts held around town during the 10 days of Stampede – my wife, Mary Anna, and I feasted on some of the finest hotcakes, sausages and coffee you'd ever have a hankerin' for.
This particular breakfast was sponsored by the businesses that share that parking lot. No cars parked in front of Guy's Café and Bakery and Royal LePage Integrity's locations on this morning, however; all the spaces were taken over by outdoor grills, butter and syrup tables, coffee urns, and hundreds of hungry, happy guests.
Smiling folks we've known around town for years served us our hot-off-the-griddle golden-brown stacks, and we made our way to a table in front of the offices of Drs. Ziegenhagel & Associates Family Dentistry. (I was amused by the good dentists' thoughtfulness in distributing samples of dental floss and toothpaste to those of us sitting at that table – sort of a hint, hint, eh?)
Soon we were joined by two couples who became instant new friends. Toronto pastor Warwick Cooper and his Canon-camera-toting wife, Annette – and yes, she really knows what to do with her fine DSLR – were visiting our wee town on the Bow. With them were Warwick's sister, Fiona Horton and her husband, Don, of Cochrane.
Don Horton, by the way, is the owner/operator of one of Cochrane's newest privately run places to tee off, just south of town, Horton Hollow Golf Course, opening soon. He promised me a tour of the 12-hole course in the near future, even though I'm far more likely to be carrying my photo-friendly Nikon digital than I am a links-friendly Nike driver!
Several loyal readers of these weekly columns dropped by our table to say hello, too. It was so encouraging to hear them speak highly of all the inspirational stories you, our coffee companions, have shared through these columns. In fact, many of our readers have said lately just how much they appreciate the positive tones of beauty and hope they pick up through them – a real tribute to you who have inspired the topics and words. Thank you.
Well, pardners, that's how I managed to put on some extra weight this week, and in the process, make some great new friends. But I hope the friendships last a lot longer than the extra pounds.
© 2012 Warren Harbeck
JoinMe@coffeewithwarren.com