A thank-you note for companionship at a time of grief
COFFEE WITH WARREN, with Warren Harbeck
Cochrane Eagle, February 22, 2012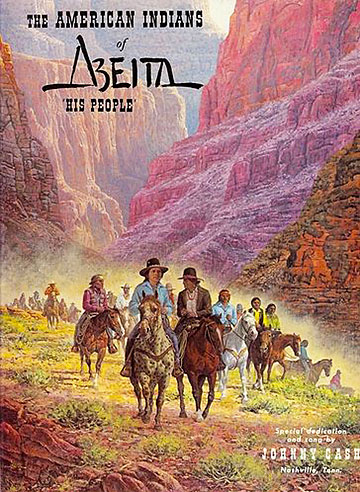 On the cover of The American Indians of Abeita, Navajo artist Jim Abeita depicts companionship through a painful passage. Painting by Jim Abeita
The loss of a loved one is never easy, but noted Navajo artist Jim Abeita has well understood an important secret to the grieving and healing process.
Some years ago, I acquired a copy of The American Indians of Abeita: His People. What left an especially indelible impression on me about this 1976 collection of magnificent paintings was the book's eye-catching cover image and the story behind it.
The cover depicts the artist journeying horseback through a treacherous canyon, its towering red-rock walls pressing in from the sides, suffocating in their terrifying grandeur.
But the artist is not alone. Beside him and following him is a throng of other riders.
At first breathtaking then intimidating, the painting speaks ultimately of comfort, as the riders emerge from the dusty, shadowy trail behind them and amble forward on sunlit greener ground.
The work is based on the lived experience of the artist and, in a sense, is his personal "thank-you note" to family and friends.
Like the riders that accompanied him through the shadowy canyon, his family and friends had been by his side through a most difficult time in his life journey: the death of his beloved wife.
This week's column, like Abeita's painting, is a thank-you note from my wife, Mary Anna, and me – a thank-you note for the way so many of you journeyed with our family through a painful portion of our own life journey, the Feb. 7 death of our beloved daughter-in-law Monica.
Monica Harbeck née Sosnowski was the 47-year-old wife of our Calgary son, Reg. Their two children, Naomi (20) and Thomas (18), have been featured in past columns (most recently, Thomas's discussion with me about prayer in my January 11 and 18 columns).
A nurturing parent, gifted teacher, and supportive friend, Monica had a particular enthusiasm for her Polish heritage that enriched our whole family. Not only did she make Polish the language of their home, but in an age when headlines proclaim "Bilingual kids get edge," Monica, a committed tri-lingual, made sure our grandkids were competent in both French and English, too.
Monica's greatest contribution to life, however, was praised by Naomi and Thomas in their eulogy at last Wednesday evening's prayer service:
"What gave everything Mom did its distinctive beauty and importance was the deep love from which it sprang," they said. "Her unique, intimate love hugged us when we were kids and held our hand as we grew older. In a way, we're still holding her hand, as her love continues to guide us."
Many of you reading this learned about Monica's death through obituaries, emails and over coffee. You supported our whole family in word, prayer and deed, even helping out with meals and attending Thursday morning's funeral.
In so doing, you gave new meaning for me to that hope-filled passage from Psalm 23: "Yea, though I walk through the valley of the shadow of death, I will fear no evil: for Thou art with me."
In the spirit of Abeita's painting, then, I'd like to paraphrase those words:
Yea, though we travel through death's shadowy canyon, we will fear no evil, for Thou art with us – with us through the communal hug of so many of you who have been by our side at this difficult time.
Thank you.
© 2012 Warren Harbeck
JoinMe@coffeewithwarren.com