Araby Lunar eclipse inspires e-mail coffee companion
COFFEE WITH WARREN, with Warren Harbeck
Cochrane Eagle, December 14, 2011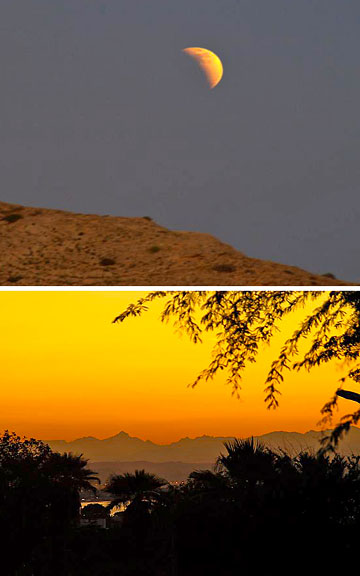 "We could watch the Moon rising, already partially eclipsed (top photo) and the sunset over the city of Muscat, simultaneously" (bottom photo), wrote former Redwood Meadows resident and stained glass artist feather Mills from the Arabian peninsula country of Oman.
Photos by feather Mills
Last Saturday I arose very early and made my way over to Cochrane's Mitford Park, camera and tripod in hand, to catch the much-anticipated pre-dawn total Lunar eclipse beautifully visible above our western horizon. (See my December 7 column.)
Little did I realize that half-way around the world, one of our coffee companions, camera in hand, was also taking in the eclipse, but just above the eastern horizon and at sunset.
I arrived at Mitford Park just as Earth's shadow began creeping across the full-moon face of our heavenly neighbour. Fellow astronomy enthusiasts Tim Giese, Deb and Gerry Ertel and a half-dozen others were already there.
Tim, Chair of the Cochrane Environmental Action Committee (CEAC), had his 120 mm Skywatcher Refractor telescope pointed toward the Moon.
He also happened to bring along a very welcome box of Tim Hortons donuts that Deb was passing around. (Thanks!)
On a related matter of great concern to folks who love the night sky, I should note that Tim and fellow Cochrane stargazer Nic David are actively educating our community on the importance of responsible lighting. To support their case against light pollution, have you ever tried viewing the stars from downtown Calgary or Toronto?
Returning now to the Lunar eclipse, I was able to get a few shots with my Nikon D200 camera and have posted them on my website.
I also shared them right away with some of our e-mail coffee companions around the world. Several replied very enthusiastically. Some, such as former Redwood Meadows stained glass artist feather Mills, even sent me their own photos.
While we here in Cochrane were taking in the eclipse toward sunrise in finger-numbing temperatures, 30 degrees of latitude further south and 11 time zones to the east in Muscat, Oman, feather and her husband, Simon Brissenden, were experiencing the very same eclipse, but at the end of a much warmer day. She wrote:
"Thanks for your great photos of the eclipse! It looks very cold there. Here on the Arabian peninsula, our house is perched high on a rocky ridge, or 'Jebel,' so we could watch the Moon rising, already partially eclipsed, and the sunset over the city of Muscat, simultaneously.
"The second-last of the six daily prayer-times, Maghrib, is at sunset, so as we walked over to the ridge-top wall with our cameras, the call to prayer rang out from a myriad of mosques, and the bright green parakeets squawked and chattered as they headed down the wadi to roost in the neem trees.
"It was warm, comfortable T-shirt weather, with the slightest of breezes off the Indian Ocean. It couldn't have been more romantic."
I'm including two of feather's photos with this column, and only wish I could also include some of the warm breezes off the Indian Ocean. Oh well, the Lunar eclipse will have to do for now.
Thanks, feather, Tim, and all the rest of you who helped us celebrate this season's spectacular Lunar eclipse.
© 2011 Warren Harbeck
JoinMe@coffeewithwarren.com