Moon dances with the stars and planets in prime time
COFFEE WITH WARREN, with Warren Harbeck
Cochrane Eagle, November 30, 2011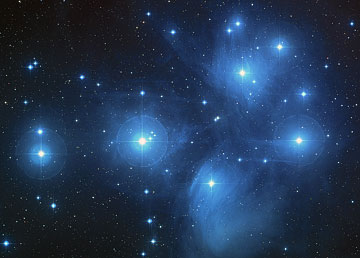 Like a diamond brooch on black velvet, the Pleiades star cluster has captured the imagination of night sky lovers from the beginning of history.
Image courtesy of NASA/ESA/AURA/Caltec
Dancing with the Stars, ABC TV's hit competition show that pairs professional dancers with celebrities and leaves the choice of winners up to the viewers, has just completed its thirteenth season.
But not even J.R. Martinez and Karina Smirnoff's dazzling performance last week can compare with what's in store for avid night sky watchers over the next week-and-a-half.
The Moon itself will be dancing with the stars in prime time – and with several planets, too. And one star cluster, in particular, is decked out in its finest dancing duds to once more steal the hearts of many.
On Dec. 8, the Moon will go cheek-to-cheek with the Pleiades (pronounced PLEE-ah-deez) before exiting stellar-stage-west just before dawn on the tenth in a full Lunar eclipse, observable by folks in Alberta and British Columbia.
Here's a little advice for our coffee companions who are new to stargazing.
First, these are naked-eye events that I'm describing; that is, you don't require some fancy telescope to take in the show, although a pair of binoculars will certainly enhance the experience.
Secondly, when you step out under the evening sky, give your eyes a few minutes to adjust to the darkness. Also, pick a viewpoint away from artificial lights. Most of the dancers are relatively dim and require your eyes' best light-gathering ability to enjoy.
Thirdly, use the giant planet Jupiter as a point of reference. Jupiter is that very bright object high in the southern sky mid-evenings for the next few weeks.
The Pleiades star cluster is much, much fainter, and can easily be mistaken for a small wisp of cloud about the size of the tip of your thumb when your arm is fully extended. Use Jupiter to help you locate the Pleiades. With your arms fully extended, you will find the Pleiades the width of two fists to the left (to the east) of Jupiter.
The Pleiades cluster consists of about 200 tightly packed stars some 400 light years from Earth. Under dark conditions, about six are normally visible to the naked eye, but a dozen or so become clear through a pair of binoculars. (For more about the Pleiades, see my column of Nov. 19, 2003.)
After the Moon dances briefly with the planets Neptune (on Dec. 1), Uranus (Dec. 4) and Jupiter (Dec. 6), it takes the Pleiades in its arms on the celestial floor on Dec. 8.
The Pleiades may be somewhat upstaged by the far brighter Moon as it dances with the stars, but if you've been able to locate the cluster ahead of time, you'll have no problem praising their prize-winning tango.
© 2011 Warren Harbeck
JoinMe@coffeewithwarren.com