Cochrane Men's Gathering to focus on mentoring youth
COFFEE WITH WARREN, with Warren Harbeck
Cochrane Eagle, October 26, 2011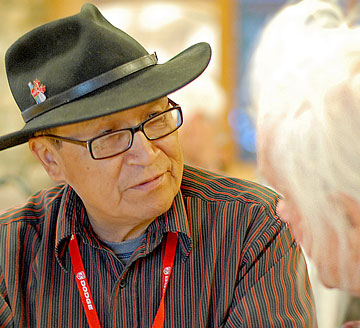 Roland Rollinmud, left, chats with David Sweeney at last year's Cochrane Men's Gathering. By popular demand, the Morley artist is a featured presenter again at this year's event. Photo by Warren Harbeck
Last fall's Men Making a Difference event was so popular it will be held again next month. This year the town-sponsored event is about mentoring our young people.
The one-day gathering will take place at Cochrane RancheHouse on the morning and afternoon of Nov. 19 and will feature presentations by Cochrane "Marathon Man" Martin Parnell and Morley artist Roland Rollinmud.
"Cochrane is such a vibrant community," says coordinator Brian Pugh. "Amidst their busy schedules, men and women want to know they have made a difference. However, men are often uncertain as to how or when to 'plug in.' Events such as this encourage men to meet this need to step beyond their lives and be a positive influence upon someone else.
"Men don't often get together, but when they do, it's a very powerful experience."
This year's Men's Gathering brings back two speakers who were so well received last year.
Martin Parnell headed the team that entered the Guinness Book of World Records Sept. 19 for the longest game of netball ever played. He will stress the role of men in developing energetic, community-minded young people.
He will also update the gathering on his work with Right to Play, an international organization striving to improve the lives of children in disadvantaged areas around the world through sports and play.
Roland Rollinmud is the celebrated Stoney Nakoda artist responsible for the new mural at Banff's Cave and Basin that depicts his people's traditional use of the world-famous hot springs.
A dedicated family man, he will share his experiences of positive male influence in his own youth and what he, in turn, is doing to mentor local youth today.
In addition, there will be a panel discussion with young people from Cochrane and Canada World Youth, as well as a "Movember" activity.
Movember is the November moustache-sprouting movement committed to raising awareness of men's health issues, and in particular, prostate cancer. Its involvement was suggested by organizing committee-member Alex Cathcart because of its fight to end this most commonly diagnosed cancer among men.
"It's a serious disease," Alex says, "but by taking a visual approach – moustaches – some humour can be involved and we hope this will be a positive addition to the event."
One enthusiastic participant in last year's conference shared with me the other day why he's really looking forward to participating again this year. Photo-essayist Jack Blair said he was not at all disappointed with his earlier experience.
"I came away with some learnings from the speakers and a good feeling of belonging during our breakout discussions," he said. "I had the privilege of being paired off with Cochrane Eagle publisher Jack Tennant on a couple of those breakout sessions, so you can be sure we did a lot of talking and, refreshingly, a lot of listening."
In fact, Blair, who at the time was still a Calgarian, was so impressed by the time together that he chose to make Cochrane his new home!
Doors for this year's Men's Gathering open at 8 a.m. The day will begin in the Hall of Vision with welcoming remarks by Cochrane Mayor Truper McBride and one of those great breakfasts our RancheHouse team is famous for.
Martin Parnell and Roland Rollinmud will lead the pre-lunch sessions. Movember and a youth-mentoring panel will round out the afternoon, with wrap-up about 3:45, just in time for Cochrane Light Up.
The fee for the whole day, including meals, is a real bargain at only $35 per person for those early birds who register by Oct. 28, $40 after Oct. 28. To register, or for more information, phone Cochrane Family and Community Support Services at 403-851-2250.
© 2011 Warren Harbeck
JoinMe@coffeewithwarren.com