Photographer captures giving spirit of ranching life
COFFEE WITH WARREN, with Warren Harbeck
Cochrane Eagle, August 24, 2011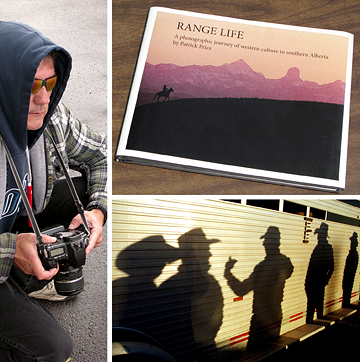 Pat Price, at left in his cool-weather photo-duds, has celebrated the joy of Cochrane-area foothills ranching culture in his just-published book, Range Life. Among its powerful images is a shot of five ranchers' shadows along the side of a cattle liner at the end of a long day's work. Photo at left by Warren Harbeck, lower right by Patrick Price
Cochrane's Patrick Price is a pretty happy camera-slinger this week. His much-anticipated coffee-table book, Range Life: A photographic journey of western culture in southern Alberta, is finally off the press.
In over 100 full-page images, Pat shares with us his visual encounters with ranching, rodeos, First Nations pow wows, and the Calgary Stampede.
We long for a sip of cool water with thirsty cowpokes on dusty cattle drives. We get down and dirty with bull wrestlers in muddy corrals. We're embraced by sunset mountain grandeur with a lone rider along a rolling ridge (his cover photo).
And what's it like to set up a tepee village at Stoney Park in Morley to host visitors from across the land? Or how about the skill of a hoop dancer, or the beaded and feathered flamboyance of festive First Nations regalia?
Several of the photos in this book are of shadows. My favourite is of late-afternoon shadows along the side of a cattle liner. Five ranchers are having a chat. What problems are they solving? What plans are they making? What heritage are they shaping?
Pat, an editorial/documentary photographer, moved to Cochrane in 1990 and made this his home base for exploring our western ways. Over the years, his work has been featured in publications around the world, including the Cochrane Eagle.
"I have tried to capture the rural spirit of the people that work the land," Pat writes. "People that work hard and play hard, and smile while they're doing it. Generous people that have opened their doors to me and allowed me to photograph their operation and families. Many of these ranchers have fed me, not because I worked, but because I was a guest. It seems to be the rural way."
Well, we are Pat's welcome guests now in this delightful book, his first. And he has set before us a generous feast. It's just Pat's way.
Range Life is available locally at Bentleys Books, Just Imajan Art Gallery, and Tea and Other Things, and (soon) on Amazon.com. Also, check out Pat Price Photography on Facebook.
© 2011 Warren Harbeck
JoinMe@coffeewithwarren.com