Mayerthorpe park evokes Canada Day gratitude for RCMP
COFFEE WITH WARREN, with Warren Harbeck
Cochrane Eagle, June 29, 2011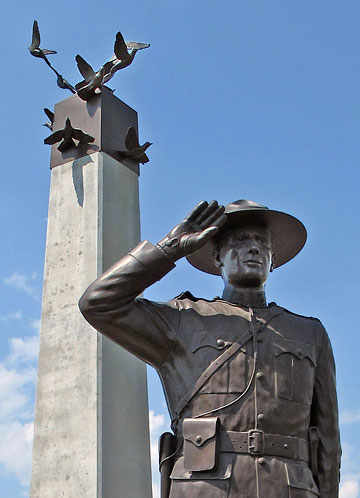 Peter C. Schiemann is one of four officers honoured at Fallen Four Memorial Park in Mayerthorpe. They stood on guard for Canada. Photo by Warren Harbeck
The noble tradition of the Royal Canadian Mounted Police is one of the many wonderful things I'm thankful for this Canada Day.
Their selfless role in serving and protecting Canadians was movingly driven home for me this past weekend on a visit to the Fallen Four Memorial Park in Mayerthorpe, northwest of Edmonton.
The park is a tribute to the four slain RCMP constables – Brock Myrol, Anthony Gordon, Leo Johnston and Peter Schiemann – ambushed March 3, 2005, while carrying out an investigation at a farm near Mayerthorpe.
Three of the officers were from the Mayerthorpe Detachment and one from the Whitecourt Detachment. They were shot by James Roszko, a notorious lone gunman with a history of violence, hiding in one of his farm buildings. (Roszko also took his own life.)
The shock and grief over this unspeakable tragedy inspired a group of dedicated volunteers to create this tribute to the four officers and all peace officers throughout Canada.
The memorial consists of a circle of four larger-than-life bronze statues of the officers, each facing outwards toward one of the cardinal points of the compass and in positions of "salute," "at attention," "at ease" and "standing at ease."
At its centre is an obelisk from whose cap a flock of bronze doves soar into freedom, representing the spirits of all officers down through the years – past, present and future – who have served, are serving, and will be serving our country.
The statues and doves are the creation of Cochrane's own Don and Shirley Begg, of Studio West Bronze Foundry and Art Gallery. The painstaking detail and dignity of their artistry evoked praise and gratitude from the officers' families, fellow officers and all who knew them. (See July 9, 2008, Cochrane Eagle article, "Four statues a labour of love.")
My attention was especially drawn to the statue of Cst. Peter Christoper Schiemann, Reg. #48064, facing eastward toward his home town of Stony Plain and standing at attention in the honoured position of "The Salute," the doves behind him rising in formation seemingly in harmony with his respectful posture.
There were six of us from Cochrane visiting the park together last Sunday.
Among our group was coffee companion George Sikorski. Just three weeks earlier, George was one of 1,200 runners in the Fallen Four Marathon/Relay, a fundraiser for the Fallen Four Memorial Society.
Joining him in the 42 km Mayerthorpe-to-Whitecourt event were our Whitecourt hosts for the weekend, former Cochrane builder Pierre Landry and his wife, Michelle Brennick, a former vice principal at St. Timothy Jr/Sr High School, Cochrane. (Thanks for your superb hospitality, Michelle and Pierre!)
At the dedication of the park on July 4, 2008, Prime Minister Stephen Harper said, "Let us resolve that the Mayerthorpe memorial be not only a tribute to those who died doing their duty for us, but also an eternal reminder of our duty to those who are carrying on."
Yes! And so, let us join our hearts and voices with those of all citizens of this beloved nation of ours this Friday as we sing:
"God keep our land glorious and free. O Canada, we stand on guard for thee."
© 2011 Warren Harbeck
JoinMe@coffeewithwarren.com