Victoria Day, the Queen's signature and Reg Johnston
COFFEE WITH WARREN, with Warren Harbeck
Cochrane Eagle, May 18, 2011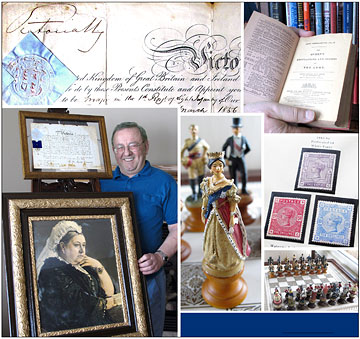 Clockwise from top left: Queen Victoria's signature appears at upper left of document owned by Reg Johnston. A copy of The Queen's Regulations and Orders for the Army. Three stamps bearing Queen's image. Chess pieces featuring Victoria. Reg, standing beside portrait of Queen Victoria; above her, military document bearing her signature. Photos by Warren Harbeck
Click for a larger version.
Three months ago I was sipping my morning coffee at our local A&W when Cochrane resident Reg Johnston came up to me, all excited, and said, "I have the Queen's signature!"
My Feb. 23 column had just come off the press. Titled "The King's Speech, King's signature and Jim Kerfoot," it was about a longtime Cochrane rancher whose document of military appointment bore the signature of the subject of that Oscar-winning movie. The document was dated Aug. 12, 1937 and signed "George R.I." – King George VI of Great Britain.
Reg asked if I'd care to see a similar document dated almost 80 years earlier and signed by Queen Victoria.
"Of course!" I said, and thus began my growing admiration for his spectacular treasure trove of Queen Victoria memorabilia.
Reg moved to our foothills community four years ago to enjoy his retirement and indulge a lifelong passion of his. He's a history buff with a special enthusiasm for anything to do with this monarch of the United Kingdom of Great Britain and Ireland who reigned from 1837 till her death in 1901.
The first thing I noticed upon viewing his collection was that, yes, he did indeed have Queen Victoria's signature. It was right there on the military document dated March 29, 1856, mounted above a portrait of this Queen famous, as legend has it, for saying, "We are not amused," her expression quite straight-faced – not at all like that of my jovial host.
Reg then showed me his sizeable library that includes such works as an 1885 edition of The Queen's Regulations and Orders for the Army and his albums of postage stamps bearing Queen Victoria's image.
I must say, however, it was his royal chess set that particularly grabbed my attention. There she was, the short-in-stature Queen herself, standing tall with her husband, Albert, Prince Consort, and her bishops, knights and others of her court.
In honour of the approaching Victoria Day weekend, I'd like to share with you a few of my photos of how Reg commemorates the longest-reigning of all British monarchs, this amazing woman who left her signature so indelibly across those exciting pages of history that have come to be known as the Victorian Era.
© 2011 Warren Harbeck
JoinMe@coffeewithwarren.com