Inspiring words from Old Towne Cochrane gift shops
COFFEE WITH WARREN, with Warren Harbeck
Cochrane Eagle, March 30, 2011
You find them everywhere: on posters, plaques, greeting cards, towels, fridge magnets, windows and walls.
I'm speaking, of course, of the punchy wisdom sayings that give us pause – and the occasional chuckle.
They're the commonsense observations and inspirations that add spice to our lives. Or, as the slogan on the wall at Cochrane's Paintbox Artist Supplies used to say about art: they're "brushstrokes of joy, love and laughter" for the human journey.
According to ancient tradition, such wisdom calls to us especially from the crossroads and marketplaces of life. This certainly must include the popular tourist strip in Old Towne Cochrane.
The other afternoon, for instance, I took a stroll among the gift shops along the main drag. There wisdom called to passers-by with great lines such as:
"We need heroes because they draw us on to become better versions of ourselves . . ." (seen on a greeting card at Poor David's).
"Enjoy the little things in life, for one day you will look back and realize they were the big things" (seen on a plaque at Old and Crafty).
"And I think to myself, what a wonderful day" (seen on a fridge magnet at Heavenly Outhouse).
Here's a photo-collage of more wise words my camera captured that afternoon. Enjoy!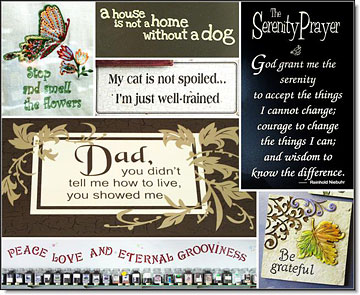 Wise sayings and inspirations abound in Old Towne Cochrane gift shops like "brushstrokes of joy, love and laughter" for the human journey. Clockwise from upper left, these were seen at Seasons in the Sun, Heavenly Outhouse (dog), Anything Grows Home (cat), Old and Crafty, Kitchen Boutique, Tea… and Other Things, and again, Old and Crafty. Photo collage by Warren Harbeck
© 2011 Warren Harbeck
JoinMe@coffeewithwarren.com