Coffee, tea and me: some reflections at a café table
COFFEE WITH WARREN, with Warren Harbeck
Cochrane Eagle, January 19, 2011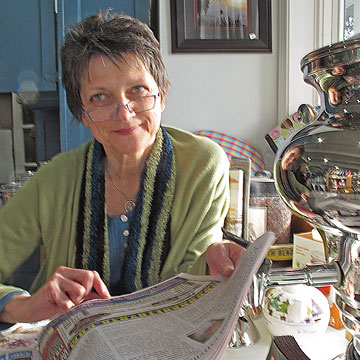 Lorraine Fader, staff member at Tea and Other Things in Cochrane, reminisces with columnist during her lunch break. At right is one of the mirror-shiny samovars for which the teashop is famous. Photo by Warren Harbeck
My wife, Mary Anna, and I stepped inside Tea and Other Things the other day to buy a housewarming gift for friends. To our delight, the visit held a special gift for us, too: some heartwarming reflections on the special place café tables hold in our lives.
Tea and Other Things is a tea and specialty gift shop which has recently relocated next to Cochrane Coffee Traders on Second Avenue West in old-towne Cochrane.
In addition to an amazing variety of bulk teas and related products that you'd expect to find in such a shop, it also offers table service where you can relax with friends over fresh-baked scones or pies, and yes, pots of aromatic teas steeping amidst delicate china and mirror-shiny Russian samovars.
While Mary Anna was browsing among the giftware, I noticed staff member Lorraine Fader enjoying her lunch break at a window table. When she saw me approaching, she pointed to a copy of the Cochrane Eagle in her hands and said excitedly, "What a coincidence! I was just reading your column."
Lorraine invited me to join her over a cup of tea, and before I knew it, we were into nostalgic reminiscences over the importance of tea times in our lives – and not just tea times, but coffee times, too.
The fact that Tea and Other Things is only a few steps south of Cochrane's iconic Coffee Traders did not go unnoticed. I inquired about that.
Yes, their staffs visit back and forth in very friendly competition, she said.
Since I'm a loyal patron of both establishments, I began reflecting on the distinctly different kinds of social experiences I have in the one place and the other.
When I'm at Coffee Traders, if I'm not reading the newspaper, I'm usually engrossed in intellectual discussions of current events and ideas in general.
Sometimes the discussions are with Canadian Pacific Railway engineer Mark Bretherton about wildlife along the mainline heading toward the Spiral Tunnels; sometimes with geologist Mike Veloski about the changing ocean currents in the Atlantic; sometimes with design-conscious Ginette Mitchell about her new camera; sometimes with retired air-traffic dispatcher Bob Bartlett about the beauty of the Stoney Nakoda First Nation ways he's learning from Cochrane's neighbours to the west.
But when I'm sipping tea next door, the topics are decidedly different – perhaps because I'm usually with Mary Anna and in surroundings that hint of Grandma's kitchen.
At the teashop we are more likely to quote a poem, share stories of the kids and grandkids, chat about the towns we've lived in, dream about how we'd like to redecorate our home, or imagine the far-away places we'd like to visit – preferably where the climate is a bit warmer in January.
Lorraine agreed. Tea shops stimulate different kinds of memories and conversations for her, too, than coffee shops, she said. The former are more poetic, the latter more prosaic.
We also agreed there's something special about the power of the cup itself, whether filled with piping hot coffee or tea. The way I like to explain it is that there's a certain sacredness to the cup as it mediates one heart with another around the café table.
Or, as Lorraine said with a mischievous twinkle in her eye while reflecting on her employment at Tea and Other Things, "My favourite things in this store are peace, love and eternal grooviness."
A cup of peace, love and eternal grooviness sounds like a pretty good blend to me, too, as we open our hearts to each other at a quiet café table in this delightful journey called life.
© 2011 Warren Harbeck
JoinMe@coffeewithwarren.com