These are a few of my favourite things from year 2010
COFFEE WITH WARREN, with Warren Harbeck
Cochrane Eagle, December 29, 2010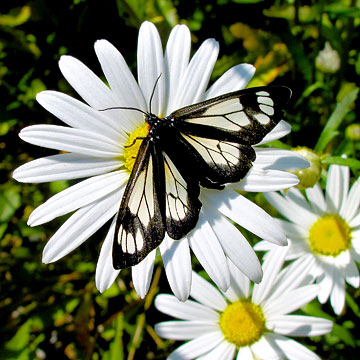 A black-and-white police car moth pauses on a welcoming daisy, a symbol of hope when justice and harmony prevail among the creation. Photo by Mary Anna Harbeck
A toast to Sound of Music for inspiring the theme of this New Year's column.
In view of the long, cold days we've endured recently, I'm especially keen on the line from "My Favorite Things" that goes, "Silver white winters that melt into springs" – a great reminder that spring is less than three months away!
For the time being, however, while we're still in the season of "warm woolen mittens," "sleigh bells," and "snowflakes that stay on my nose and eyelashes," I'd like to celebrate a few of my own favourite things from 2010.
My favourite YouTube video is a no-brainer. In my Dec. 1 and Dec. 8 columns, I wrote of this Christmas season's run-away cyber-hit, the Food Court "Hallelujah Chorus."
A flash mob from Choral Niagara performed the powerful piece from Handel's "Messiah" for an unsuspecting crowd of shoppers at a Welland, Ont., mall on Nov. 13. Produced by Alphabet Photography, Inc. as a holiday greeting to its clients, it was originally projected to attract 50,000 viewings. 28 million viewings later, it has become the most visited YouTube video in Canada for 2010.
The impact of such a sacred surprise has increased my appreciation for something the Russian writer Dostoevsky once said: "The world will be saved by beauty."
My favourite heartwarming song for 2010 isn't the "Hallelujah Chorus," however, but a duet performed by my teenaged grandkids, Naomi and Thomas, at my 70th birthday celebration – see my column of May 5.
Naomi and Thomas sang Bill Withers's popular piece "Lean on Me." They must have been inspired by my white hair, for they seemed to emphasize the words, "Lean on me when you're not strong / I'll be your friend / I'll help you carry on."
My favourite movie for 2010 is Invictus – see my column of March 3.
Clint Eastwood's film about Nelson Mandela uses the backdrop of the 1995 World Cup rugby match to illustrate how the first president of post-apartheid South Africa brought about interracial healing. In a conversation with the captain of their historically racist national team, he pleads for a valiant inclusivity that will do more than merely win the cup.
"How do we inspire ourselves to greatness when nothing less will do?" Mandela asks. "In order to build our nation, we must all exceed our own expectations."
My favourite book for 2010 has to be Judge John Reilly's Bad Medicine: A Judge's Struggle for Justice in a First Nations Community.
Reilly's concern parallels much of Mandela's: to disempower the secrecy and fear that enable tyranny – see my column of Dec. 15 – and in Reilly's case specifically, to unmask the abuse of power among the Stoney Nakoda First Nation at Morley.
The overwhelmingly positive response to his book among Stoney Nakoda members clearly points to a new day of hope for his primary audience.
Which leads to my favourite photo of 2010 taken by my wife, Mary Anna.
Yes, just as justice restored gives birth to hope, so with the arrival of summer Mary Anna's daisies bloomed once again in her backyard garden. On one occasion, she grabbed her Canon G10 and captured a police car moth with its signature black-and-white wings outstretched on one of the blossoms, a symbol of hope when justice and harmony prevail among the creation.
And so, with these vivid images and experiences fresh in my mind, it's time for me to wish all of you a very Happy New Year. Thank you for being among my many other favourite things that have made the past year so worthwhile.
© 2010 Warren Harbeck
JoinMe@coffeewithwarren.com