Christmas story in Stoney points to hope for humanity
COFFEE WITH WARREN, with Warren Harbeck
Cochrane Eagle, December 22, 2010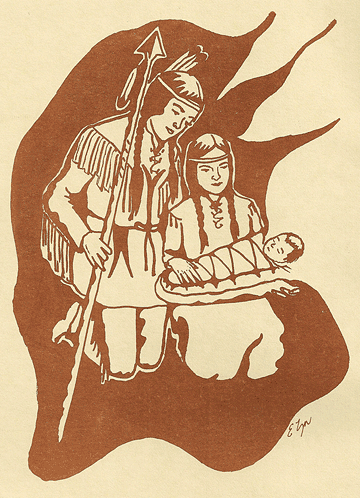 Mary and Joseph in braids and buckskins and the baby Jesus snugly asleep in a moss bag exude a First Nations traditional aura in this Nativity scene. Drawing by Elaine Twoyoungmen
The sacred story of Jesus' birth has been told for over 2,000 years in word and music – and of course, in art. It transcends boundaries of language and culture, modernity and tradition, wealth and poverty.
Of special interest to me as a Scripture translation consultant is how that biblical narrative has been expressed in the language and art of the Stoney Nakoda First Nation at Morley, west of Cochrane.
Take, for example, the announcement of an angel to some surprised shepherds taking care of their sheep one night, as recorded in the Gospel of Luke:
"Nîyusî îyaabik" – "Don't be afraid" – the angel said to them, according to one Stoney Nakoda translation.
"Wohnagabi ehâgada wathte ze chijahibi chach, wîchasta wîja owath dââginabi chiyen" – "I'm bringing you the really good story to make all the people happy."
"Hechen nâgâhâ hâhebi ne David ta-oyade nen wanîgiye cha tûbich" – "This very evening, here in David's city, a saviour has been born."
This familiar story that underlies the celebration of Christmas continues with yet another surprise: The child will be found, not amidst luxury and privilege, but in much simpler surroundings – "wodeja owate-wîchagijarabi cha en îgach" – "He'll be lying in a trough made for feeding animals."
After a full-chorus angelic send-off, the shepherds head to Bethlehem. There they find the promised baby lying in a feed trough, just as the angel said.
This version of the Christmas story was first published in 1973 using the newly developed writing system for the Stoney Nakoda language, thanks to the dedicated efforts of the community-based Stoney Bible Translation and Language Program.
The culturally engaging appearance of the booklet is testimony to the creative contribution of its graphic artist, the late Elaine Twoyoungmen.
So moved was Elaine by the Christmas story in her own language, that she produced a series of pen-and-ink illustrations to go with it. I'm including with this week's column her drawing of the Nativity Family as seen by the shepherds.
Last week for the first time I had a chance to sip coffee with Rev. Jim Hillson, the new pastor of St. Andrew's United Church in Cochrane. Prompted by the increasing secularization of the season, he very quickly got around to one of his major concerns: the loss of sacred story.
"Things that have been part of our journey and shared reflection on meaning and morality for thousands of years ought not be dismissed too quickly," he said. "But we do need to find a way of hanging on to sacred stories without allowing them to set us in opposition to others and their stories.
"If we can succeed in discovering the threads of our religious narrative that connect us to others rather than set us against others, then I think we are more likely to have discovered a human project with a future."
About threads that connect, it seems to me that the Stoney team's efforts in translating the sacred story of Christmas into their First Nations language and art are steps in the right direction – a project both desirable and achievable.
In the spirit of this sacred story, then, I wish all my coffee companions a very Merry Christmas.
© 2010 Warren Harbeck
JoinMe@coffeewithwarren.com