Model Christmas village in spirit of Cochrane Light Up
COFFEE WITH WARREN, with Warren Harbeck
Cochrane Eagle, November 24, 2010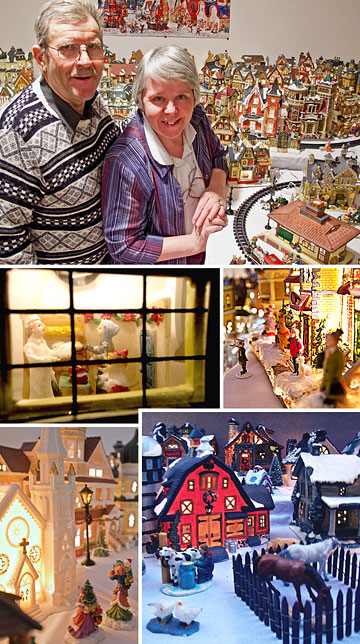 Clockwise from top: Roy and Evelyn Marinoski, of Cochrane, celebrate the season of Light Up amidst their miniature home-based Willowrose Christmas Village; the 110 buildings include a downtown of small Victorian businesses; a homestead with a farmer milking the family cow by moonlight; a church illuminating the way for a mother and child; and seen through a window, a baker offering tantalizing Yuletide delicacies hot from the oven.
Photos by Warren and Mary Anna Harbeck.
Click here to view a larger version of the collage.
While our very wintry foothills town was celebrating its annual Christmas Light Up this past weekend, one Cochrane family was having a miniature Light Up of its own.
Over the past seven years, Roy and Evelyn Marinoski have created a tabletop town in their home on Riverview Circle.
Willowrose Christmas Village, as they've named it, consists of 110 buildings, parks, a train, and a wide assortment of streetlamps and figurines. The nostalgic Victorian arrangement changes from year to year but is always aglow with the same joy of the season.
| | |
| --- | --- |
| | "Part of what makes this village so special is the lighting." —Evelyn Marinoski |
| | |
"Part of what makes this village so special is the lighting," Evelyn says. "All of the buildings are lit up from inside. I get to light up my whole little village with just one switch each time we enjoy it.
"I'd like to think that lighting up Cochrane, just as I light up my little village, represents something of the spirit of Cochrane and all that Cochrane has to offer its residents and those who come to visit."
And indeed, visitors are most welcome at their Willowrose Christmas Village, especially if they'd like to help share the light of hope and happiness with a timely donation for the less fortunate. Two charities supported by these donations are Cochrane Activettes and Opportunity International.
"The Activettes are a major part of Light Up and helping families at Christmas," Evelyn says.
"Opportunity International is a micro-lending organization that we support. As a business person I really like the idea of giving a hand up, not just a hand out. Micro-lending does that – not just once, but over and over again. So giving to an organization like this is a gift that keeps on giving. How neat is that!"
Their idea for the village took root some years ago when Evelyn and Roy came across a set of miniature buildings that reminded them of an enjoyable Christmas visit they'd paid once to a Victorian village in northern California.
Thus, they began developing their own Victorian village, populating it, and illuminating it.
"There's something peaceful and relaxing about sitting there with the village lights on and Christmas music playing softly in the background," Evelyn says. "Kind of gets the imagination going."
If you'd like to kick start your own Yuletide imagination, Evelyn and Roy are inviting the public to their home to view their Christmas Village on Nov. 27 from 10:00 a.m. to 6:00 p.m.
There is one condition, however. Out of respect for their neighbours, and so that not everyone arrives at once, Evelyn and Roy request that you phone ahead – 403-932-6329 – to book a time for your visit and to get directions.
For more information on this fascinating festive experience, see Roy and Evelyn's website, www.willowrosechristmasvillage.com.
© 2010 Warren Harbeck
JoinMe@coffeewithwarren.com