Hope-filled autumn red and gold return to Bow Valley
COFFEE WITH WARREN, with Warren Harbeck
Cochrane Eagle, September 29, 2010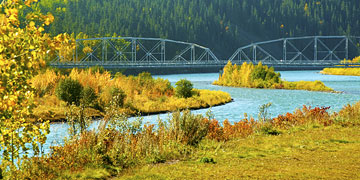 Sept. 22, the first day of autumn, saw reds and golds in luxurious profusion along the Bow River in Cochrane. This view is taken from the off-leash pathway looking west toward the old bridge. Photo by Warren Harbeck
I treasure autumn's return to our valley. On the lighter side, it means that spring is only six months away! On the more serious side, it is a reminder of the grandeur and wisdom of old age.
But more about that in a minute.
First, I must clear up a concern raised by several readers over Cochrane's Oct. 15–16 men-only Men Making a Difference gathering I mentioned in last week's column on playing nice in the sandbox.
"I'm not sure I understand the need for having exclusive groups," Cochrane coffee companion Nicole Champagne wrote. "Can women not help make a difference, as well? As you mentioned, are we not all in this sandbox together?"
Good point, Nicole. Actually, one reason for Cochrane Family and Community Support Services hosting this men-only gathering is a perceived gender imbalance in its conferences. Specifically, for 16 years it has sponsored Tapestry of Women, to be held this year on Oct. 30. This women-only event is all about women in the Cochrane, Morley and surrounding area making a difference within themselves and in the community. Launching the men's gathering was an attempt at fair play in the sandbox.
About hindrances to playing nice in the sandbox, the main point of last week's column, I received the following e-mail from Cochrane coffee companion Michael Bopp, international specialist in participatory change:
"The 'us' and 'them' mentality that is so avidly promoted and so conveniently manipulated by narrow political, economic and ideological interests is literally killing us," Michael wrote.
"Any belief system, whether it be religious, political or ideological that causes us to see one another as separate, as the 'other,' rather than as the one human family that we are, is a symptom of a sickness that is infecting the body and soul of the world . . . and the underlying source of many of our global problems."
His prescription for dealing with the disease of disunity is to "recognize and act upon our common oneness."
Which brings me back to my love for autumn and a lesson I've learned from it.
Last Wednesday, the first day of fall, my photographer friend Bruce Riddle and I took our cameras on a stroll along the north shore of the Bow River as it passes through Cochrane just east of the old bridge.
The diverse, aged leaves of red and gold were acting upon their common oneness, a lifetime of beautiful wisdom for playing nice in the sandbox. They reminded me of Robert Browning's stirring lines: "Grow old along with me! / The best is yet to be, / The last of life, for which the first was made. . . ."
© 2010 Warren Harbeck
JoinMe@coffeewithwarren.com