Alan Mattson – model of great layout and pleasantness
COFFEE WITH WARREN, with Warren Harbeck
Cochrane Eagle, August 4, 2010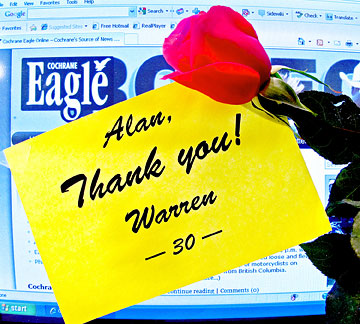 Alan Mattson, 1987 – 2010, up-and-coming journalist at the Cochrane Eagle, knew well the art of page layout. But even more importantly, he demonstrated in life how the layout of our lives speaks to the quality of our hearts.
Photo by Warren Harbeck
There are few people I've enjoyed working with as much as Alan Mattson, reporter and copy editor with the Cochrane Eagle, home base for my weekly columns.
It is with shock and dismay, then, that I've just learned of his untimely death over the weekend.
When the rising star in the news business failed to show up for work on Sunday – a most unusual occurrence – another staff member went to his residence to check on him and discovered his lifeless body.
At the time of writing this, details on cause of death have not been released.
Although still a student in Mount Royal University's journalism program, Alan approached his work at the Eagle like a seasoned pro, whether reporting on academic and athletic achievements, the joy of teddy bears, installation of new traffic lights, or whatever the editor assigned him.
Examples of his fine writing can be seen by typing in "Mattson" on the search line at cochraneeagle.com.
My own involvement had less to do with his writing, however, and much more to do with his artistry in page layout.
The importance of layout cannot be overstated.
Bad page design can trivialize an otherwise important story. Where and how a story, column, photo or ad appears on a page is not unlike the matting and framing of a fine painting. It mediates between content and reader, and elevates mere words and sentences into pleasing forms that, done well, can grab a reader's attention.
From my perspective as a columnist and occasional producer of photo-features, I found Alan to be a master at laying out my pages.
Well ahead of my deadlines, Alan and I could discuss together the particular balance between words and images appropriate to my topics.
We could test the water, so to speak, on various options, such as was the case with a centrefold I did back on Jan. 6, 2010, on Walter Fankhauser's magnificent model railroad. In that instance Alan and I worked together as a team in selecting and fitting the images to best relate Walter's vision for his miniature world.
On other occasions – and this is almost always the case when it comes to my weekly columns – I work tightly to the length of the top half of whatever page I'm on.
Over the past year that Alan handled the layout for my page, we worked out a formula together that allowed me to turn in columns pretty consistently within one or two lines of the required length – and often, exactly the right length.
This meant, of course, no major last-minute editing and rewriting, always a relief to the entire newspaper staff when the clock is ticking toward press time.
In a business in which editorial people are often stereotyped as gruff and insensitive to the needs and dreams of their writers, Alan was always a pleasure to work with.
Where appropriate, he would affirm what he felt worked especially well in my writing and photos. On occasion, when he felt it necessary to challenge my approach in a column, he would do so respectfully, stating his reasons clearly enough for even me to understand.
But beyond all these professional matters, I always found Alan to be a positive presence at the office.
He and I never actually socialized outside of the office, but inside, his attitude and good heart always made my days happier – and by extension, helped make my coffee companions' days happier, too, I believe.
Alan, I will miss you. Thanks for your example.
© 2010 Warren Harbeck
JoinMe@coffeewithwarren.com