Roland Gissing – artist lassoed by land of his dreams
COFFEE WITH WARREN, with Warren Harbeck
Cochrane Eagle, July 7, 2010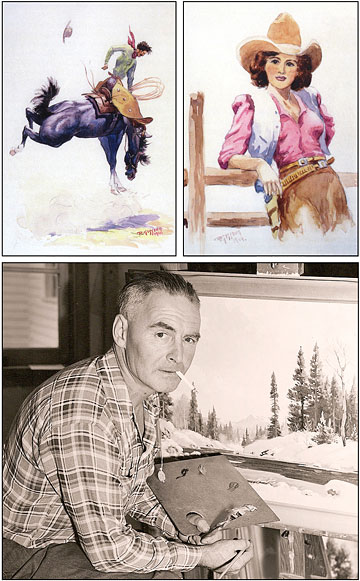 Roland Gissing, Canadian artist who wished he'd been a cowboy (bottom, at work in his Ghost River studio, 1947), captured Stampede spirit in The Daddy of 'em all (top left) and The Cowgirl. Images courtesy of The Gissing Collection
As a youth growing up in England, Roland Gissing (1895–1967) dreamed of becoming a cowboy just like in the movies, so at the age of 18 he set off for Alberta, his ideal of the Wild West.
It wasn't horse and lariat that became his claim to fame, however, but paintbrush and canvas.
Upon his arrival in these parts, he hired himself out to various ranchers, but soon discovered the romantic lifestyle he'd envisioned was far removed from the reality.
As his biographers, Max Foran and Nonie Houlton, described it in Roland Gissing: the Peoples' Painter:
"The cowboy life he had dreamed of was being lost in a trivial world of fence mending, haying, and farming chores. Riding was restricted to branding calves in spring and gathering beef stock in fall. Fences had pushed the cowboy's life into constricted fields. The cold, wet summer of 1916 further dampened the spirits of one who envisioned a west similar to the unfenced, golden dryness of the Charlie Russell paintings he admired so much."
Thus, Gissing returned to his first love, art.
Drawn by the grandeur of the foothills west of Cochrane, he built his home and studio along the Ghost River just upstream from the Bow.
Here he produced landscapes that came to define our province: hay-stook-dotted rolling fields set against snowcapped mountains, spruce-guarded streams reflecting the moon on a mystical evening, historic oil wells rising to a prosperous future – paintings that gave him feature status at three editions of the Calgary Stampede.
In all this, he never forgot the energy of the cowboy culture that brought him here to begin with: bucking broncos, cattle roundups, branding, and reclining by a campfire at the end of a long day in the saddle.
Nor did he forget the resilience of the cowboy culture when, in 1944, his original home and studio along the Ghost burned to the ground, together with much of his life's work. He dusted himself off, picked up his brush, and just kept going.
All this and more has been made vivid to me in recent weeks by Gissing's granddaughter, Kori Gregory.
Kori, overseer of The Gissing Collection (www.rolandgissing.com), has committed herself to keeping her grandfather's legacy alive, as evidenced by her popular exhibit of his work at Spruce Meadows three years ago.
Locally, in her role as art co-ordinator at Rustica Fine Art Gallery in Cochrane, she's bringing Gissing's work back home to our part of the Bow Valley.
Because of the many in our area who own and treasure Gissings, the gallery not only has originals and prints for sale, but can also arrange for appraisals, cleaning and restoration.
Kori recalls a line that chokes her up whenever she recites it aloud. It's a tribute the Cochrane Light Horse Association came up with some years ago:
"If you ever see a painting so truly beautiful it makes you feel proud and perhaps a little homesick for the Alberta foothills, it's probably a Gissing landscape."
© 2010 Warren Harbeck
JoinMe@coffeewithwarren.com