Potter opens larger studio for flights of imagination
COFFEE WITH WARREN, with Warren Harbeck
Cochrane Eagle, June 23, 2010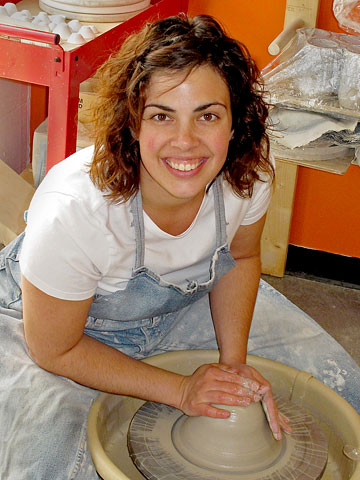 Cochrane potter Nicole Byl, the entrepreneurial visionary behind Saffron Collective Studios, puts her hands to the clay on her potter's wheel to shape the future.
Photo by Warren Harbeck
Slipping "the surly bonds of earth" and dancing "the skies on laughter-silvered wings" was the delight of one of our coffee companions for some years.
But these days it's a far earthier calling that beckons the former flight attendant to fully embrace High Flight poet John Gillespie Magee, Jr.'s exultation in doing "a hundred things / You have not dreamed of."
Nicole Byl, of Cochrane, used to make WestJet passengers comfortable on their journeys to far-away places. Now, as a potter, she strives to make lumps of clay comfortable in her hands on their journeys toward becoming beautiful bowls, vases and other creations yet-undreamed.
She's also an entrepreneurial visionary who has set out to help other local artists achieve their creative potential.
Nicole, a serious potter and pottery instructor for the past five years, is celebrating the grand opening of her exciting new venture, Saffron Collective Studios, Saturday afternoon, June 26.
Located at 205 Third Avenue West, Cochrane, next to Ducks on the Roof, the working art studio and gallery offers production facilities for both potters and other artists looking to expand.
I've been a fan of Nicole's pottery since she moved to Cochrane in 2006. For four years she operated on a smaller scale as Saffron Pottery Studios, but her desire to invite others to join her in the joy of their various art forms has resulted in her new, more spacious venue.
One requirement, however, is that those who join her must have a positive, genial attitude.
Her move into fulltime pottery from her loftier involvements in flight has always intrigued me. When I asked her about this the other day, she shared with me some of her reasons.
"I really wanted to see my studio work come alive," she said, something that was difficult to do when one's head was always in the clouds.
"There's freedom in both," she went on. "Up, up the long, delirious, burning blue" of High Flight's sky, a poem inscribed on her grandfather's gravestone, hints at the "easy escape" of flight.
But in "the freedom of pottery, you can do so much," she said. "The only limitation is your imagination."
Working with clay is also quite therapeutic. "You're working with earth," Nicole said. "The pot's going to reflect how you feel. It gives you release from your everyday life. If your mind's somewhere else, it's not going to work out."
Flying is so much about speed, she explained. "It's that go-go-go mentality. When you're in pottery, if things speed up, things get wrecked. Rushing usually leads to breakage and cracking.
"For me, pottery requires very much a meditative state, because you really have to be focused on it, and nothing else."
In this sense, then, maybe Nicole has never really left her earlier career above the poet's clouds, where "with silent lifting mind" she's "trod / The high untrespassed sanctity of space." Only, now she has substituted a potter's wheel for an airline's serving trays. And the flight she offers is not to some busy airport, but a flight of imagination to the creation of beauty.
© 2010 Warren Harbeck
JoinMe@coffeewithwarren.com