Ex-Marine paints peace and love with words, pictures
COFFEE WITH WARREN, with Warren Harbeck
Cochrane Eagle, May 26, 2010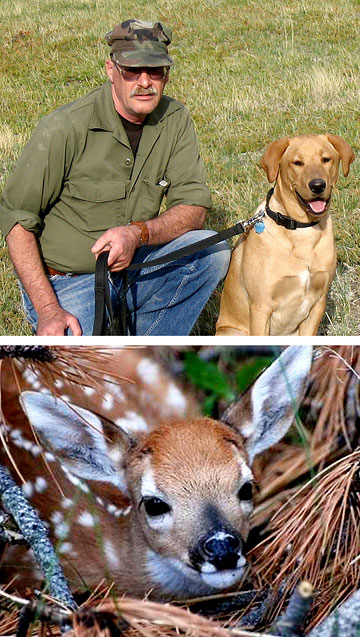 Bruce Riddle, pictured with his trusty companion Shiloh (top), counters the ugliness of war with beautiful words and pictures, such as this one of a whitetail fawn he befriended north of Cochrane. Photos by Bruce Riddle
Bruce Riddle, of Cochrane, is a writer/photographer who brings to his art the pain of war, a passion for the out-of-doors, and a determination to make the world a gentler, more loving place for all.
Bruce first caught my attention this winter when he shared with me a line from his poem, "Apology to Mankind": "Forgive my inability to quit believing in Human Dignity, Honour, and Integrity."
These values, instilled in him from his trap-line days as a youth in northern Saskatchewan, came to mean more and more to him during his three-year stint as a U.S. Marine in Vietnam.
About those darkest years in his life he wrote:
"I witnessed the tears, heard the inhuman screams of rage, pain, helplessness, torment, and fear, from hardened troops on long-forgotten, blood-soaked battlefields. At times, I screamed to the Heavens to make it stop. And yet, even during that living Hell, there were brief, poignant, glimpses of Goodness – the huge hulking soldier, grimy and blood-spattered from the fighting, crooning softly to the terrified child he holds, while anguished tears streak down his face."
The Purple Heart recipient – he was wounded on four different occasions – returned to Canada to ponder the insanity of war and to strive for a better way. After all, he asked in a poem about two opposing soldiers killed in mortal combat, "Why can't we live and get along, / Or has the whole world just gone wrong?"
He longed to return to the out-of-doors – to the deer, bear, and timber wolves, now friendly partners in a quality of life he prayed he could share with many: "The wilds are calling me, please grant me the ability to get there. Let me teach others to see what I see."
The animals of the forest seem to sense his peaceful longing, he tells me, for they don't flee upon his arrival. In fact, he can stand among them for long stretches while they allow him to capture them on film or simply fill his heart with a better understanding of what life can be like when all God's creatures live in harmony.
But harmony among people increasingly sick with self-interest? Bruce recalls "a time in this great land / When . . . people helped / A neighbour when in need."
That reflection was not lost on Bruce when he encountered the Eagle essays by Tamara Palinka, Cochrane's gal-on-the-ground till recently in Haiti. He saw her as an example of "Just one simple person / Doing a task" doing what "she must / To get the job done. / Her sole reward / Is helping someone."
Bruce believes his purpose as a writer is "To ease the pain of a troubled mind / With a simple phrase, plain yet kind." He could just as readily be describing his vision as a photographer, for the poem continues: "Or paint a picture full of hope / To give a stranger the way to cope."
© 2010 Warren Harbeck
JoinMe@coffeewithwarren.com