Seizing the day with a new mind and facing up to time
COFFEE WITH WARREN, with Warren Harbeck
Cochrane Eagle, May 19, 2010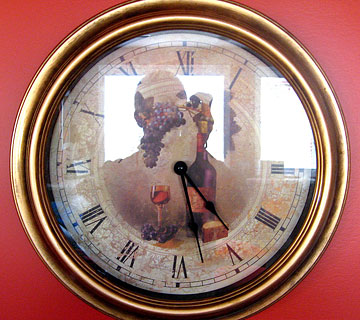 Cochrane shutterbug George Sikorski caught his reflection in the face of a clock and named the image "Frozen in Time."
Photo by George Sikorski
Some great news about Kelsey Cartwright and her stellar recovery from brain surgery, along with a photo of a buddy of mine "frozen in time."
But first a quick follow-up to last week's hilarious letter from LCol (Ret'd) Richard Maillet.
Several of our coffee companions couldn't resist having some fun with the Canadian Forces officer's going to all the wrong places while trying to find the Frank Wills Memorial Hall. As B.C. reader Karin Henderson said, "Now I know why military personnel have drivers!"
When I shared Karin's comment with Richard, he wrote back:
"That was a good response. As a matter of fact, Karin is absolutely right; it was a good thing that I had a driver. I would probably be still roaming the plains of Mogadishu, by now my gas tank pretty low."
Now back to Kelsey. She's the Cochrane High Grade 12 student who had 20 per cent of her brain surgically removed last fall to rid her of the epileptic seizures she'd been having since she was 11. (See my column of Nov. 25, 2009.)
All indications are that the surgery was a success. She's graduating this Saturday with her class (on the honour roll!), and has been accepted at several universities for pre-veterinary studies.
She's also received some well-deserved awards, including two local scholarships in recognition of her agricultural achievements: one from the Cowgirl Cattle Company and the other from the Dr. Scott Rairdan Memorial, in connection with her enthusiastic participation in 4-H.
Speaking of 4-H, Kelsey's mother, Kellie Cartwright, just informed me of an exciting venture Kelsey's club undertook. They've been raising the Charity Steer for the 4-H Calgary Region, to be auctioned off May 30 on the Calgary Stampede grounds as part of 4-H on Parade.
4-H on Parade, touted as Canada's largest gathering of 4-H clubs and members, provides area 4-H folks the opportunity to showcase their projects, one of which is the Charity Steer.
"Each year a different club within the region raises the Charity Steer," Kellie explains. "The steer will sell anywhere from $5,000 to $10,000 at the Charity Steer Auction."
The club that raises the steer picks the charity to receive the proceeds from the auction.
For this year's recipient, the local club has chosen the Alberta Children's Hospital Foundation. It was at the Calgary Children's Hospital that Kelsey had her amazing brain surgery last November.
"Everyone in our club and community appreciates having the availability of such a great facility for kids," Kellie says.
Yes, I think all our coffee companions would agree about the availability of such a great facility.
Congratulations on your recovery and graduation, Kelsey, and congratulations and best wishes on the Charity Steer auction, all you local 4-H'ers!
Now onto my "frozen-in-time" friend, George Sikorski, of Cochrane.
George and I were among eight attending a photography retreat this past weekend. Our assignment was to interpret the invisible through the visible.
George, fairly new to the hobby, blew me away with his photo. Titled "Frozen in Time," it was a reflection of him in the glass covering the face of a clock.
I'm not sure whether he was motivated more by environmental issues or by concerns over personal mortality – he turns 60 this Thursday – but his image recalled for me a line from the Psalms: "Teach us to number our days that we may apply our hearts unto wisdom."
Happy Birthday, George. Thanks for the reminder.
© 2010 Warren Harbeck
JoinMe@coffeewithwarren.com