John Mark exemplified best of Stoney Nakoda tradition
COFFEE WITH WARREN, with Warren Harbeck
Cochrane Eagle, April 7, 2010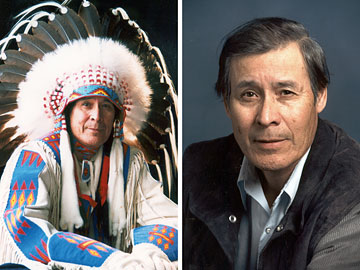 John Mark, 1925–2010. His Stoney Nakoda name, Sîktogeja Wîdâge, means "Gentle Wolf," indicative of his quality of character well attested to by all who knew him.
Photos courtesy of the Mark family
It was late autumn 1965 when I first met John Mark – we called him "Johnny" back then.
My wife, Mary Anna, and our one-year-old son, Reg, and I had just arrived in the Stoney Nakoda First Nation community at Morley and were settling into an abandoned 16 × 20 foot log cabin along the escarpment just south of the school. John, his wife, Georgie, and their four children came to our new home for dinner one evening and have never left our hearts.
We had moved to Stoney Country to cooperate with the community in linguistic research, Scripture translation and cross-cultural communication. Johnny and Georgie had stepped forward almost immediately to assist and encourage us in the endeavour that has embraced our lives ever since.
In Stoney culture, traditional names are given that often prove prophetic. The name given to Johnny was Sîktogeja Wîdâge (pronounced sink-toe-GAY-jah ween-DAHNG-gay), "Gentle Wolf." The name describes a person who will be strong in character and gentle in spirit. This is exactly the kind of person we came to know and love over the next nearly half century.
Toward the end of World War II Johnny served in the Canadian military, then went on to become a champion brahma bull rider at the Calgary Exhibition and Stampede for a couple of years. By the time we came to know him, however, he'd settled into more peaceful pursuits, including singing duets with his wife – and later, quartets with Mary Anna and me – at the local church.
Speaking of the Calgary Stampede, untold millions of summertime visitors to our area have been hosted by Johnny and Georgie without realizing the greatness of their hosts. From 1977 till the present they were tepee holders in the Stampede Indian Village. There they endured heat, dust, thundershowers, sometimes frosty nights and noisy midways to make sure their guests could experience a bit of First Nations hospitality, complete with the fragrance of pine boughs and smoked hides.
For myself, I didn't need to step into their tepee to appreciate their hospitality. Back in the late 1960s we lived briefly in the Big Horn Stoney community west of Rocky Mountain House. Often when we'd come back to Morley for a few days, Johnny and Georgie had us stay at their home, enjoy Georgie's cooking – and especially her famous bannock and stew – and tune into some of the band music their kids were getting really good at.
In spite of being really busy people – for some years John served on the tribal council and Georgie headed up the Stoney Handicrafts operations – they never missed an opportunity just to be there for others in their moments of need. It was this availability to others that prompted John to pull up behind my wife's car stranded along the Trans-Canada Highway one very cold, windy day. Mary Anna had a flat tire, and although John had other matters to attend to, nothing was more important to him at that moment than giving her a hand and getting her back on the road.
Back in 1999 when John and Georgie celebrated their fiftieth anniversary, there was a great community gathering. On that occasion, former chief Henry Holloway compared the two of them to the edge pieces of a jigsaw puzzle.
That certainly described Mary Anna's and my respect for John and his wife. He, with Georgie ever at his side, helped define secure boundaries within which we could spread our wings and fit comfortably within the greater picture of life in the Stoney way.
John passed away on March 25. He was 84.
I will miss you, my friend, my brother. God be with you till we meet again.
© 2010 Warren Harbeck
JoinMe@coffeewithwarren.com