A gold medal should be awarded for quiet woodworking
...if Cochrane's Duncan S. Robertson is any indication
COFFEE WITH WARREN, with Warren Harbeck
Cochrane Eagle, February 24, 2010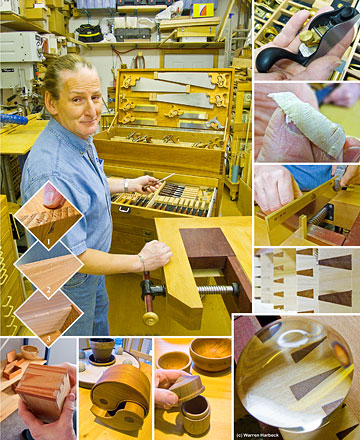 Clockwise from top: Cochrane hand-tool woodworker Duncan S. Robertson uses squirrel tail plane and dozens of other razor-sharp planes and chisels capable of tissue-paper-thin shavings on his handcrafted products; correct saw technique results in precision joints, such as these dovetails which show no visible gaps under a magnifying glass; finished products include bowls, tightly fitted lidded box, yin yang box, and his signature "hidden-hinge" lidded boxes. Inset photos: (1) fine detail of "English-style" dovetail joint; (2) and (3) outside and inside of nearly invisible hidden hinge in lidded box.
Photos by Warren Harbeck
Click on the image for a larger version
The 2010 Winter Olympics have reminded us once more of the splendour of passion and performance associated with gold-medal excellence in world-class athletic achievement.
Such excellence isn't limited to sports, however. Right here in Cochrane, in my opinion, one of our coffee companions deserves recognition for his passion and performance in hand-tool woodworking.
I first met Duncan S. Robertson a couple of years ago at the Java Jamboree coffee shop. A discussion of Vivaldi – music is another of his passions – quickly turned to his joy of making small wooden jewelry boxes with the most amazing dovetail joints and invisible hinges imaginable.
He invited me to visit his home workshop in GlenEagles to see how it all happens. I finally took him up on his kind invitation a few weeks ago.
And what a workshop he has! This 56-year-old master craftsman has taken "a place for everything and everything in its place" to new heights: tool chests and drawers painstakingly constructed to the same high standards he's set for his jewelry boxes, with custom-shaped locations for every tool in his vast collection. (The main image in the photo collage accompanying this column should give a pretty good idea of what I mean.)
If every tool has its place, it would be fair also to say every procedure Duncan performs has its own tool. In particular, I had never realized there were so many sizes and kinds of wood planes and chisels, each one so sharp you could shave with it – and no, I didn't let him try them out on my beard.
It wasn't so much the tools that amazed me, however, but what he accomplishes with them. He is committed to quiet woodworking – in fact, Quiet Woodworking is the name under which he carries out his artistry. With few exceptions, he does just about everything with hand tools instead of noisier power tools. There are, of course, the obligatory table and band saws, drill press and lathe, but they're not up to the fine work for which he is famous.
What kinds of fine work?
Most obvious are his stunning dovetail joints, stronger than the boards they join, yet so precise and tight-fitting that no power tool could ever fashion them. Made with contrasting woods – tulip wood and figured maple, or poplar and mahogany, for instance – these joints are treasured design features.
An example of the single kerf, or "English-style" dovetail, is shown in inset image (1) in the photo collage. "The total width of the gap in the tail portion of that joint is about 25 thousandths of an inch, about the width of a single saw kerf," he explained. "This joint is impossible to cut using power tools. Speaking as a hand tool teacher/user, this joint illustrates just how much more one can do with hand tools over power tools."
But it's the invisible "hidden" hinges for the lids of his boxes that Duncan regards as his signature work. He takes hand-sawn dowels, joins them to a box and its matching lid, and planes and finishes them on the outside so that they appear to be just part of the wood of the original box and lid, even to trained eyes. He's perfected this technique to such a degree that other skilled woodworkers happily pay him $750 a day just to learn his secret.
Really though, he told me, this kind of detailed work is more about passion than profit.
So, how did his passion come about? It all started back in Grade 8 in Duncan, B.C., he said, when he made his first coffee table in shop. But his addiction to hand tools really took off only about nine years ago when he met New Brunswick master craftsman Rob Cosman at the Calgary Woodworking Show.
"I fully credit him with getting me into hand tools," he said of Cosman, a specialist in English-style dovetails and the man he regards as his mentor. "I'm good, but Rob is another level above me."
Duncan has many interests in addition to woodworking, all of them guided by his motto, "'Good enough' is not good enough." He builds houses and loves books. He teaches guitar, flute and trumpet, and plays trumpet with the Cochrane's Riverside Jazz band.
Oh yes, did I mention he's also made over 1,700 jumps as a skydiver, including gold-medal jumps at the 1984 world championships in Australia?
But those honours notwithstanding, I'd like to raise my mug in a coffee-cup toast for a more down-to-earth reason: To Duncan – on my score sheet, a gold medal champion in quiet woodworking!
© 2010 Warren Harbeck
JoinMe@coffeewithwarren.com