Three personalized mugs bring together 'three amigos'
COFFEE WITH WARREN, with Warren Harbeck
Cochrane Eagle, October 21, 2009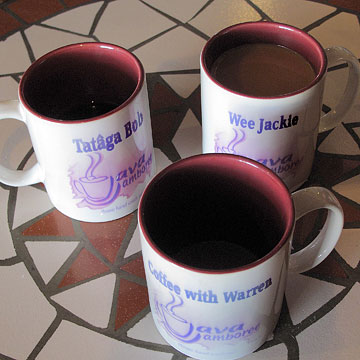 'Three amigos' ('Tatâga Bob' Bartlett, 'Wee Jackie' Tennant, and 'Coffee with Warren' Harbeck) meet often over their personalized Java Jamboree cups, pictured in this mug shot.
Photo by Warren Harbeck
Last week's column on Emily West's cinnamon buns at Cochrane's Java Jamboree generated some very enthusiastic responses. Yet how much better a great cinnamon bun tastes when accompanied by a great cup of coffee – especially when sipped from one's very own personalized mug in the company of great companions!
But more about that in a moment.
Apparently there's quite a cinnamon bun addiction out there, according to comments I've received. Several of our distance readers have promised to visit Cochrane soon just to try out Emily's special recipe.
Debbie Faulkner, of Calgary, even sent me a short explanation of how cinnamon has been used over the centuries as a fragrant addition to sacred oils. (This may explain why cinnamon buns are such heavenly treats.) About one of her favourite spices, she added:
"Ancient, exotic and sanctified cinnamon now blesses and refreshes us when we join a friend for coffee."
Which brings us back to the personalized coffee cups.
Soon after Les and Ottilia Jaworski opened Java Jamboree a few years ago, they surprised me with my very own mug inscribed with the words, "Coffee with Warren."
Now, "coffee with" implies community. As Calgary restaurant reviewer John Gilchrist wrote in the Calgary Herald, "Java Jamboree has become a community meeting place and a haven for those looking for good coffee."
An important part of my own community are two others equally honoured with their own personalized mugs: Bob Bartlett and Jack Tennant. We "three amigos" join each other most afternoons over some of Java's good coffee to review how things are going in our Bow River valley.
Jack, a longtime Cochrane resident, is the owner of the Cochrane Eagle newspaper, home base for my column. He's also an avid old-fashioned black-and-white film photographer, an art form that is quickly regaining popularity, he says. His cup is inscribed simply "Wee Jackie," the title of his very popular page two weekly column.
(For some background on this community-minded publisher, see my column "Jack Tennant joins our table," Aug. 1, 2001.)
Bob is a retired air-traffic dispatcher and woodcarver who moved to Cochrane nine years ago. Lately he has taken a keen interest in the history of the post-Treaty 7 schools and orphanage at Morley, the centre of the Stoney Nakoda First Nation west of Cochrane. The inscription on his cup, "Tatâga Bob," recognizes his respect for Stoney heritage. Tatâga (pronounced tah-TAHNG-ga) is the Nakoda word for "buffalo."
(For an account of how the late Stoney Nakoda chief Frank Kaquitts befriended and inspired Bob, see my column "One last mountain journey with Sitting Wind," Nov. 27, 2002.)
It's probably our shared friendships within the Stoney Nakoda community that have most often brought our three mugs together on one table – Jack as a journalist, Bob as a good neighbour, and myself as a linguist/communicator.
In this regard, one topic in particular has dominated our conversations lately: this weekend's fifth annual Nakoda-Cochrane Pickin' Party.
The event will feature bands from our two communities for an afternoon and evening of toe-tapping country western and bluegrass music.
The Pickin' Party is taking place Oct. 24 from 2 p.m. till 10 p.m. at Nakoda Lodge, on Highway 1A, ten minutes west of Morley. All are welcome, free admission (donations accepted).
© 2009 Warren Harbeck
JoinMe@coffeewithwarren.com