Cochrane High student embraces book on genuine wealth
COFFEE WITH WARREN, with Warren Harbeck
Cochrane Eagle, September 16, 2009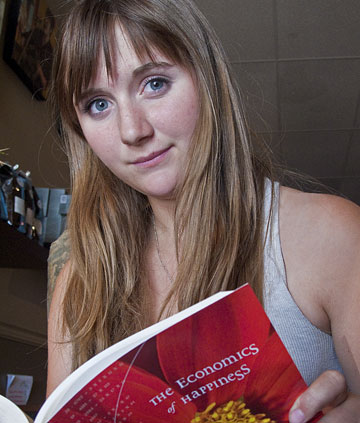 Kelsey Cartwright, Grade 12 student at Cochrane High, finds much in common between her own positive life philosophy and that of Mark Anielski in his 2007 book,
The Economics of Happiness. Photo by Warren Harbeck
Serendipity rules when it comes to writing this column. Readers often ask how I come up with my topics. I usually respond that they walk right up to my café table unannounced, pull up a chair, and engage me in some of the most inspiring wisdom I've ever heard.
That was certainly the case this past week when Kelsey Cartwright, a Grade 12 student at Cochrane High, gave me a new appreciation for the power of happiness.
It happened like this:
My wife and I were just settling in for another great Friday afternoon coffee break at Java Jamboree when this bright-eyed, enthusiastic young woman whom we had never met before came right up to our table and, pointing to the book in my wife's hands, exclaimed, "You're reading Mark Anielski's The Economics of Happiness!"
Indeed, we were, and Kelsey had been reading the same book. In fact, as we soon learned from her, she first encountered the Edmonton author's thinking at last spring's Pathways 2 Sustainability conference at the Cochrane RancheHouse, where he was a keynote speaker.
She met him again at Cochrane High's Aug. 31 assessment-for-living workshop, which she attended as a delegate for the school's sustainable development initiatives.
It was later that same afternoon following the Cochrane High event that I first met Mark. He impressed me with his passionate commitment to a lifestyle based on an economics of genuine wealth and happiness, the subject of his 2007 book.
"Genuine wealth is built with every action and choice we make, no matter how small or large," he said. "Genuine wealth is achieved when our decisions and actions are grounded in core values that are rooted in love and respect for each other, respect for nature and creation, and a genuine desire to work together towards improving the well-being of both the current and future generations."
I liked the way he thought, so I ordered a copy of his book.
The book was delivered to us at Java Jamboree a week-and-a-half later, just moments before Kelsey arrived at our table.
Kelsey has to be one of the most positive people I've ever met. About to turn 17, she is not only a school leader, but a great poet and essayist whose words and images have been shaped by her earlier years growing up on a ranch near Longview.
Which probably explains why she's also an award-winning 4-H member specializing in beef cattle. Clearly, she adds a fifth "H" to that great organization's four "H"s (head, heart, hands, and health): Happiness.
I asked her what it is about Mark's thinking that has so impressed her.
"Mark puts together a whole new spin on balance sheets," she said. He has "a contagious sort of happiness" that provides inspiration for making sure the world will be a great place to live in. "Eventually we're going to be the generation in charge of the world."
When I shared Kelsey's comments with Mark by email, he responded:
"What a wonderful coincidence that you would meet Kelsey, a marvelous young woman who gives me hope for our province. She, like many of her peers at Cochrane High, is full of genuine wisdom and gives us 'elders' hope that all will be well."
To read for yourself what has Kelsey so excited about Mark's views, copies of The Economics of Happiness: Building Genuine Wealth are available locally at both Bentleys and Westlands bookstores, or at www.newsociety.com.
© 2009 Warren Harbeck
JoinMe@coffeewithwarren.com