Stagecoach heist precedes annual Labour Day Parade
COFFEE WITH WARREN, with Warren Harbeck
Cochrane Eagle, September 9, 2009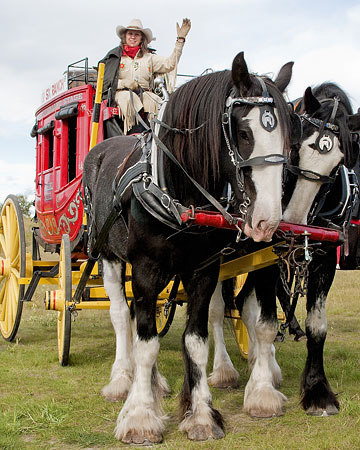 While awaiting the start of Cochrane's 2009 Labour Day Parade, Gloria Cowley, of the Rafter Six Ranch Resort west of Cochrane, sits in the driver's seat of the ranch's classic Concord coach drawn by a team of 17-hand Clydesdales. Photo by Warren Harbeck
At this year's Labour Day Parade in Cochrane I had a distinctly different experience from all previous years. I viewed the festivities as a passenger inside what just may be the very first stagecoach in Alberta to be held up by robbers.
Before getting to that part of the story, however, let me tell you how I wound up in this classic stagecoach.
The bright red coach and its team of elegantly powerful 17-hands-tall Clydesdales are owned by the Rafter Six Ranch Resort, located at the gateway to Kananaskis Country between Cochrane and Canmore. Longtime coffee companions Stan and Gloria Cowley, proprietors of the ranch, invited my wife and me to be their guests on this year's ride. Hard to say no to an invitation like that!
The Rafter Six stagecoach is typical of the rugged, comfortable Concord Coaches first built in 1827 in Concord, New Hampshire. Incomparably superior to ox carts and covered wagons, these were the "Cadillac" of stagecoaches in their day, Stan tells me. They continued in use until the early 1900s, when railroads and automobiles made them obsolete. Sick's Lethbridge Brewery awarded Stan and Gloria this coach in 1977 because of their shared vision for preserving western Canadian heritage.
One of over 120 amazing entries in this year's parade, it was clear even before we began our procession through town that this was a particularly popular entry. Earlier in the summer the stagecoach had already taken first place at the Calgary Stampede Parade in its heritage category. Cochrane parade officials followed suit by likewise awarding it a red first-place ribbon.
The crowds that lined the streets must have agreed with the officials. As we gently swayed and rocked along the route – our coach was cradled on buffalo hide straps instead of being supported by stiff springs – we were greeted with enthusiastic hand-waving and cheers. Many of our coffee companions recognized us inside the leather-appointed coach and called out to us by name – one of the nicer benefits of living in a small town.
Till this year, my wife and I had been parade spectators, enjoying the many entries passing before us: marching bands, horses and riders, floats, etc. Now we were seated inside one of those entries, enjoying the many wonderful spectators that lined the streets. What an experience!
So, what's this about a robbery?
According to Stan and Gloria's research, their beloved stagecoach may have the distinction of being the first such coach in Alberta to be held up by gun-toting bandits.
As the story goes, it happened back in late 1886 just north of Calgary near what is now the hamlet of Balzac and the site of western Canada's newest mega mall, CrossIron Mills. Two men pulled off the heist. Because one of them wore a mask made from a piece of the Union Jack, they have gone down in history as the Union Jack Bandits.
Well, we didn't see the Union Jack Bandits at this year's Labour Day Parade, but a robbery was committed nonetheless. The Rafter Six gang, the other parade entrants, officials, and hospitality volunteers, and all those who came out to watch the parade and wave cheery greetings, stole the hearts of all of us.
I guess that's the kind of theft Cochrane is famous for: a community that steals each other's hearts. Special thanks to Stan and Gloria for once again stealing mine.
© 2009 Warren Harbeck
JoinMe@coffeewithwarren.com