Airdrie celebrates centennial with air and auto exhibit
COFFEE WITH WARREN, with Warren Harbeck
Cochrane Eagle, July 29, 2009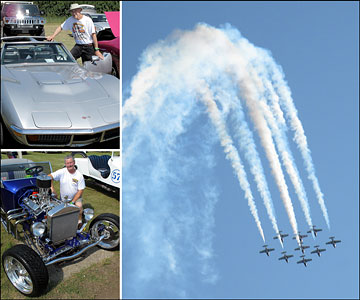 Retired Cochrane architect and event visionary Bill Boucock (upper left) had his 1972 Corvette 454 on display at the July 22 Airdrie air and auto show, joined by De Winton exhibitor Brent Gordon, pictured here with his 1923 Ford T Bucket Roadster. The high point of the day was a demonstration of precision flying by the Canadian Forces Snowbirds.
Photos by Warren Harbeck
I'm not much of an old car buff, and I'd never seen a live performance of the Canadian Forces Snowbirds before, but all that was about to change. While having my afternoon coffee at Java Jamboree, retired Cochrane architect Bill Boucock came to my table and invited me to Airdrie for the July 22 exhibition of a century of automotive evolution and powered flight in Canada, the opening act in that city's centennial celebrations.
Bill was especially enthusiastic over the vintage car exhibit he was co-ordinating at the Airdrie Air Park, 20 minutes north of Calgary – one car for each year, 1909 to 2009, and a solar car to boot.
I think he's sort of fond of old things. As evidence, you need look no further than his award-winning design of the Royal Tyrrell Museum of Palaeontology in Drumheller.
When it comes to technology, however, Bill's no dinosaur. "You can make things happen if you have a vision," he often says, and airports, planes and cars are perfect examples.
"I was hoping to get people thinking: Where are we going to be in another hundred years? We can't keep using fossil fuels forever."
At the event, the pride among car exhibitors was contagious. Bill introduced me around and urged me to hear their stories of acquisition, preservation and innovation – and of keeping classy black paint jobs spotless at the sometimes-dusty outdoor show.
For me, it was love at first sight when I set my eyes on a 1923 purple and chrome Ford T Bucket Roadster, owned by frequent Cochrane visitor Brent Gordon and his wife, Sheila, of De Winton.
Brent bought the Roadster in Victoria three years ago, he told me. "It was the most photographed car in Victoria Show and Shine." He even bought the trailer, too. "I wrapped the car in shrink wrap and brought it home." Then he and Sheila prettied it up even more.
"I wanted a California dune buggy look," he said. And what a dune-buggy look he got: shiny Boyd Coddington one-piece laser-cut aluminum wheels, chromed Edelbrock 750 carb, and a 350 cu. in. modified Corvette engine. Wow!
But as they say, a picture is worth a thousand words. So here are a few photos from the Airdrie event, complete with a shot of the precision flying for which the Snowbirds are famous.
Thanks, Bill, for the invite. Thanks, Brent, for a look at your Roadster. And congratulations, Airdrie, on your centennial.
© 2009 Warren Harbeck
JoinMe@coffeewithwarren.com