A farewell wish for Cochrane Eagle editor Ian Tennant
COFFEE WITH WARREN, with Warren Harbeck
Cochrane Eagle, July 22, 2009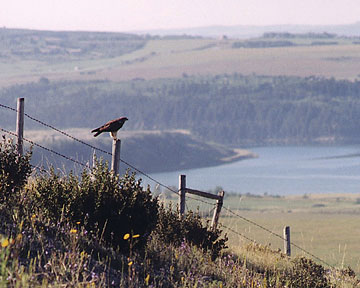 A keen-eyed raptor surveys the Bow Valley from its fencepost perch in this photo by Ian Tennant, first published in 2001 in the second issue of the Eagle. The image symbolizes the paper's vision of viewing life and the world with perspective and integrity, a vision the founding editor hopes to pass on to future generations of journalists. Photo by Ian Tennant
When the first issue of the Cochrane Eagle came out eight years ago this summer, publisher Jack Tennant began his weekly column, tongue in cheek, with those historic words, "The Eagle has landed."
This week that allusion is especially timely. 40 years ago July 20, when a U.S. lunar module made the first manned landing on the moon, astronaut Neil Armstrong declared, "The Eagle has landed."
Millions around the world followed those suspense-filled moments through the reporting of legendary CBS news anchor Walter Cronkite. "The most trusted man in America" died July 17 at the age of 92.
And in much the same way as the Eagle lunar module required exceptional skill at its controls to fulfill its mission, so too do newspapers – and the Cochrane Eagle is no exception.
Which brings me back to my primary reason for this week's column: Eagle editor Ian Tennant, who from its start has guided this newspaper in bringing you trustworthy news and opinion, is stepping down to become a student again.
He's taking up Ph.D. studies in journalism at his old alma mater, the University of Texas at Austin. This is the same institution where in 1999 he completed a master's degree in journalism.
When I asked Ian why he's returning to the academic life, he said: "I love working with young journalists, and a doctorate from a program that emphasizes research should help me become a solid professor who can help future students."
I believe him. Over the years that I've observed his editorial style, he has consistently brought cub reporters on stream and mentored them into mature journalists.
One value that characterizes Ian's professionalism, I think, is integrity. That value was at the heart of his master's thesis on how bias in the selection of news photos can subtly impact on trust and international relations. That same value has born fruit locally in the trust and goodwill he has helped build among the diverse communities that make up our part of the Bow Valley.
Ian's publisher/father captured this value well in his choice of the name for his newspaper.
"The eagle is a magnificent independent bird with great courage and sees life and the world from great height and perspective," Jack wrote in the first issue. Because of its spiritual significance, the eagle is also a symbol of integrity.
So, Ian, if there's one value I hope you will pass on to future generations of journalists, I pray it will be your commitment to the big view, based on careful research and interpreted with integrity.
"Our job is only to hold up the mirror – to tell and show the public what has happened," your fellow University of Texas alumnus Walter Cronkite once said. And "in seeking truth you have to get both sides of a story."
Best wishes, Ian. May history count you, too, among its most trusted journalists.
© 2009 Warren Harbeck
JoinMe@coffeewithwarren.com