Christ's cross leads to purpose-filled life for many
COFFEE WITH WARREN, with Warren Harbeck
Cochrane Eagle, April 8, 2009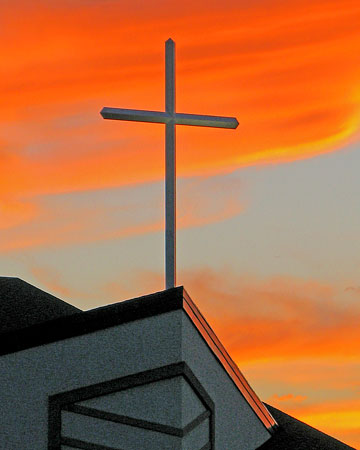 The cross over Cochrane Alliance Church points to a new day of purpose-filled life because of the Christ of Easter.
—Photo by Warren Harbeck
The cross is inseparable from the message of Easter. For Christianity, it is both a cross of suffering and a cross of victory, a cross of death and a cross of new life.
The 19th century hymn writer John Bowring declares:
In the Cross of Christ I glory,

Towering o'er the wrecks of time;

All the light of sacred story

Gathers round its head sublime.
And just what is this "sacred story" that has elevated this instrument of unbearable torture into a symbol of unfathomable hope?
No mere trinket dangling from a charm bracelet, the cross in the Roman Empire of 2,000 years ago was anything but charming. You could hang from it as a means of execution – capital punishment for all kinds of offenses, from murder and insurrection, to theft, and yes, even to accepting the title, "the Messiah, the Son of God," which, according to the Gospel of Matthew, was Jesus' "offense."
"Offense"? What possible offense could there be in a long-awaited Messiah proclaiming, "Blessed are the poor," "Blessed are the pure in heart," "Blessed are the peacemakers," "Blessed are those who hunger and thirst for righteousness"? What possible offense could there be in proclaiming "release to the captives and recovery of sight to the blind"? What possible offense could there be in staring death in the face and praying, "Not what I want but what you want"?
Here was what the invisible, compassionate presence of God looked like in flesh and blood. And in His self-awareness Jesus dared even to say, "Whoever has seen me has seen the Father."
Yet hadn't Jesus taught His followers, that "unless a grain of wheat falls in the earth and dies, it remains just a single grain"? In enduring the cross and scorning its shame, and anticipating His resurrection from the dead and the outpouring of His Spirit upon many, had He not become that grain that brought forth a field of wheat across the centuries and in all its varieties? – wheat filled with one and the same Spirit that was in Him? – wheat that was to become bread for a spiritually starved world?
So, was this His ultimate offense? As the Son of God, being that grain of wheat? And were His accusers and executioners unwitting accomplices in the germination of that grain of wheat?
Jesus' cross, far from being a scandal, became the catalyst for something better. In the cross, the sun had gone down on one day and risen on another. Exclusivity yielded to inclusivity. Not just a few, but all people of godly longing would find their life's purpose in bearing fruit just as Jesus did, for the same scripture that declares "God is love" goes on to say that, like Him, "so are we in this world."
This linkage of lifestyle with wheat and the cross is brought into sharp focus for Christians in Holy Communion. Jesus referred to Himself as the Bread of Life, the wheat that nourishes others through His brokenness. He called on His followers, likewise, to take up the cross and become bread broken for others. I'll conclude this Holy Week column with the refrain from Rory Cooney's popular hymn, "Bread of Life," often sung during Communion:
I myself am the bread of life.
You and I are the bread of life,
taken and blessed, broken and shared by Christ
that the world might live.
© 2009 Warren Harbeck
JoinMe@coffeewithwarren.com