Searching for summer: Diogenes and wintertime lantern
COFFEE WITH WARREN, with Warren Harbeck
Cochrane Eagle, March 11, 2009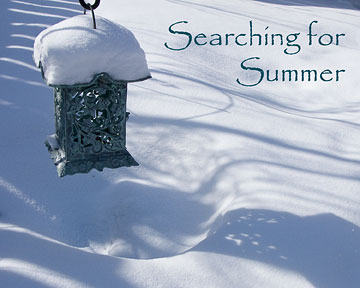 A backyard garden lantern at the Harbeck home searches winter's snow for hopeful signs of spring and summer.
Photo by Mary Anna Harbeck
So, what do a scruffy cynic and my beautiful, optimistic wife have in common? Probably not much – except a lantern and a search. But let's have some fun with this anyhow.
The scruffy cynic is, of course, Diogenes of Sinope, the fourth-century B.C. Greek philosopher noted for his ascetic ways and his very peculiar quest. He eschewed virtually all earthly possessions, except perhaps the onions he ate, the smelly rags he wore, the bathtub he made his home, and a lantern he carried around the streets of Athens and Corinth – but more about that in a minute.
Nor did he fawn over people of importance. The story is told of the time he won the respect of Alexander the Great. The legendary conqueror came upon Diogenes one morning enjoying the warm sun. So taken was the military genius by the encounter, he asked the philosopher if there was anything he could do for him. Diogenes responded, "Yes, get out of my sunlight."
Speaking of sunlight, perhaps the most famous story of all about Diogenes is of his eccentricity in carrying a lantern around in full daylight, searching for an honest man. His lantern is a prominent detail in paintings by such artists as J. H. W. Tischebein and John William Waterhouse.
Interestingly, Diogenes' lantern depicted by these two masters is almost identical in size and shape to a lantern my wife, Mary Anna, has in her backyard garden.
From late spring till early fall the lantern provides evening candlelight for our feet along a winding pathway bordered by tulips, irises, daisies, pansies, roses, and alyssum.
When the snow comes, however, her lantern hangs around in ascetic simplicity, sometimes wearing nothing more than a white cap as it looks out over the floral bed on a cold winter day.
And this is where a photograph Mary Anna took recently evoked for me memories of Diogenes. She captured a mid-afternoon moment when her garden lantern cast its shadow across the longing, white-blanketed earth. Perhaps the earth was quietly whispering, "Get out of my sunlight." To which her lantern responded, "I'm just searching for the first signs of spring and the hope of summer."
Well, if that's the case, it shouldn't have much further to look. After all, Groundhog Day prognosticators Punxsutawney Phil, Wiarton Willie and Balzac Billy, seeing their shadows on Feb. 2, concurred that there would be only six more weeks of winter – and that time's just about up.
True, the weather forecasters predict temperatures down near –30°C this week, but take heart, my coffee companions; we'll be exchanging snow shovels for garden trowels before we know it.
And honestly, Diogenes, we'll do our best not to cast a shadow over your floral friends' place in the warm sun.
© 2009 Warren Harbeck
JoinMe@coffeewithwarren.com