A hippo and a unicorn exemplify a pen pal friendship
COFFEE WITH WARREN, with Warren Harbeck
Cochrane Eagle, November 28, 2007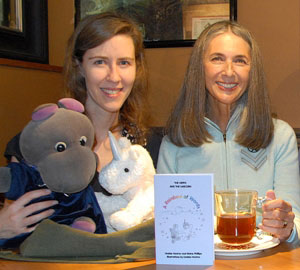 Hroshi, front left, and Evangeline, front right, celebrate publication of the first in their new series of books, The Hippo and the Unicorn: A Rainbow of Words, with their human authors, Elaine Phillips, left, and Lindsie Haxton. Photo by Warren Harbeck
One of the unexpected rewards for writing this column is bringing strangers together into close friendships. Sometimes this happens locally over coffee; other times, by e-mail across country and oceans. (I have a growing file of thank-you notes from coffee companions who have become best of friends this way.)
Never in my wildest dreams, however, could I have imagined my weekly meanderings would help inspire a book of pen pal letters between a hippopotamus and a unicorn.
With the help of their human amanuenses (Cochrane coffee companions Elaine Phillips and Lindsie Haxton), Hroshi (pronounced ROSH-ee), a hippo, and Evangeline, a unicorn, have just released their much-anticipated anthology, The Hippo and the Unicorn: A Rainbow of Words.
While correspondence between an earthy hippo and an ethereal unicorn could be considered atypical, Elaine and Lindsie believe their message is universal. Hroshi and Evangeline pay attention to the daily details of life, and their letters are a reminder to the reader that joy can be found in small things and in everyday moments – that we can grow in the glow of each other.
As Hroshi explained to me through Elaine at the beginning of the project, "Evangeline is passionate, inquisitive, winsome and creative. She inspires me to reach my potential as a hippo, a friend, a writer."
Both Elaine and Lindsie are educators, writers and creative communicators. In addition to co-authoring the book with Elaine, Lindsie can take a bow for its delightful illustrations.
"This is a book for readers who are young at heart," Lindsie says. "It's about joy and happiness, about the magic of a hippo and a unicorn corresponding with each other. We want to share the journey of their friendship."
After Elaine first introduced me to Hroshi some years ago, Hroshi reportedly said, "Mom, he looks like Father Christmas!" (You really have to love a cuddly critter like that!)
Oh yes, returning to the matter of how this column helped inspire the creation of this book, the answer is really quite simple. Shortly after Hroshi and Evangeline became friends, their humans interacted with a series of columns I ran on the most beautiful words in the English language. Lovers of beautiful words themselves, Hroshi and Evangeline realized that, between them, they had a whole rainbow of words to share – beautiful words, such as these from Evangeline to Hroshi:
at night
when the moon
is a blinking eye
and the stars
scatter stardust
o'er a windswept sky,
i dance with you.
we dance
through the night
you and i
and the moon
and the stars
in the sky
dance, too.
Lindsie, Evangeline, Elaine and Hroshi will be signing copies of The Hippo and the Unicorn: A Rainbow of Words in Cochrane at Bentleys Books on Nov. 30. Copies are also available locally at MountainView Bookstore and Westlands Bookstore.
© 2007 Warren Harbeck
JoinMe@coffeewithwarren.com